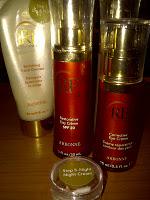 A year or two ago, one of my friends gave me a lip gloss from Arbonne cosmetics.  I had never heard of the line before, but I came to love the product.  It had just the right shimmer for daytime, and was a great neutral color for those times your want to look a bit effortless.  For me, that's almost any weekend day!  Then, just a few weeks ago, I spoke with a woman who was hoping to be a vendor at the boutique I was involved with and the products she wanted to sell were Arbonne.  She had called too late for us to give her a spot, but when she was a vegan, she lit up and we made an appointment so I could learn more about this earth-friendly line of products.  For starters, she gave me samples of their food products - protein shakes, energy drinks and even chewy chocolately bites for a midday pick me up.  They were all vegan!Then, she gave me a sample of the 5 step cleansing system.  The RE9 Advanced system has 9 different elements and botanicals to help fight the aging process.  Among them are Vitamin C that helps support collagen synthesis for healthy skin and algae extract to diminish those dreaded lines and wrinkles!
The kit includes:Step 1 Smoothing Facial CleanserStep 2 Regenerating TonerStep 3 Intensive Renewal SerumStep 4 Corrective Eye CremeStep 5 Day: Restorative Day Creme with SPFStep 5 Night: Night Repair Creme
I know ~ it sounds like a lot of steps, and if you're like me, time is of the essence, but the products feel just wonderful on your skin, and you don't feel weighed down by lotions or chalky cleansers.  None of the products are tested on animals, and are paraben and paba free.  There is nothing artificial about them.
For more information, go to www.lauracf.myarbonne.com and tell Laura I sent you!