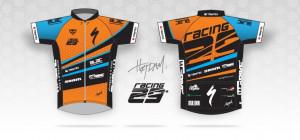 MTBO superstar Erik Skovgaard Knudsen is currently down in South Africa competing for http://www.racing29ers.com/ and doing well against some awesome competition including the God of mountain bike racing CHRISTOPH SAUSER. It would be amazing just to be in the same race as the flying Swiss but Erik and his partner Thomas Bundgaard are keeping up and are currently lying in 9th place after the first day proper.
The 8 day 800 kilometer race with over 14,000 metres of climb winds its way around some fantastic scenery around the Cape.
You can follow Erik's progress (in Danish so go for Google translate) at the racing 29s website or on facebook here http://www.facebook.com/pages/Racing29ers/218610998214939
Full Cape Epic details and daily results are here http://www.cape-epic.com/live/
I wonder if the winter beard has come off in the heat!