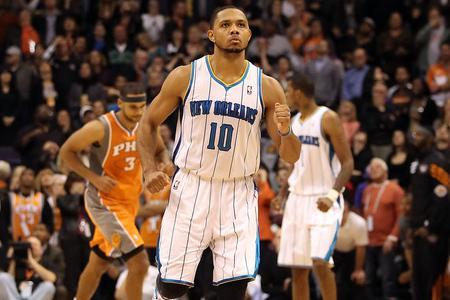 Photo: Getty Images - Christian Petersen
- Adam Parker
Yes, you read that right.
We all knew the Phoenix Suns would be active this coming off-season, whether it was to try and continue the Steve Nash era or begin to focus on L.A.N., or life after Nash. This is their first big step, I believe, to moving on post-Nash.
23-year-old restricted free agent shooting guard Eric Gordon wants to join the Phoenix Suns. The two sides agreed to a four-year, $58 million offer sheet which Gordon plans to sign on July 11th -- the first day free agents can actually put pen to paper.
However, all is not set in stone, as the Hornets and new owner Tom Benson have three days from July 11 to match the offer, thereby keeping Gordon in the Big Easy; something sources around the league are saying the Hornets have every intent of doing.
This should come as no surprise.
New Orleans has taken the stance all along that it will match any offer Gordon receives, but Gordon is hoping the Hornets decide not to.
Gordon said Tuesday that his preference was to play for the Suns, not the Hornets.
"After visiting the Suns, the impression the organization made on me was incredible," Gordon said in a statement. "[Suns Managing Partner] Mr. (Robert) Sarver, [President of Basketball Operations] Lon Babby, [General Manager] Lance Blanks,  the Front Office Staff and Coach (Alvin) Gentry run a first-class organization, and I strongly feel they are the right franchise for me. Phoenix is just where my heart is now."
No doubt the presence of Gordon's younger brother -- who is currently playing basketball at Arizona State -- had some sort of impact on his choice. After all, who wouldn't want to be closer to a sibling while still getting paid handsomely? The Suns can offer the best of both worlds, so I can't say I'm surprised. It also probably helped that they rolled out the "orange carpet" for Gordon and treated the guy like basketball royalty.
Only the best for the second-best free agent (or third behind Pacers' big man Roy Hibbert depending on who you talk to) on the market this summer.
I imagine the max money helped too.
Gordon's desire to jump ship from the Bayou is the first low point in what had been a phenomenal week for the rebuilding club. Last Thursday, the Hornets landed Anthony Davis with the No. 1 overall pick in the draft followed by the addition of Austin Rivers (yes, Doc Rivers' son) at No. 10.
Following the draft, it was widely assumed that Gordon would join the two new rookies to create a trio that would return the Hornets to relevance.
Of course, that could still be the case if the Hornets match the Suns' offer, but why do that if Gordon has no interest in continuing the relationship?
I know this is
extremely
 biased coming from a Suns fan, but to me, it just doesn't make sense to keep Gordon if he's likely to become disgruntled while stuck in a situation he didn't want to be in. With a full-on rebuilding effort underway in New Orleans, the last thing you need is to have bad blood and animosity between the organization and one of its prized players.
There are rumors that the Hornets could try to facilitate a sign-and-trade for Gordon to Phoenix (which would likely require the Suns to part with restricted free agent center Robin Lopez or possibly recently drafted point guard Kendall Marshall who the Hornets were said to be high on), or Gordon could just apply so much pressure that the Hornets just cut him loose altogether and let him head to the Valley without impedance.
As a Suns fan, one can only hope.
What the Hornets will decide to do is anyone's guess, and we won't know more until New Orleans and Gordon have had a chance to sit down again the coming days.
Whether the Suns land Gordon or not, don't expect the fireworks to be over. The team is looking at unrestricted free agents Michael Beasley, O.J. Mayo and former backup Suns point guard Goran Dragic. Considering the team's rather lackadaisical approach during the bulk of the 'Nash years', it's nice to finally see some aggression, and more importantly, wisely-used aggression during free agency.
Dominoes are being set up all throughout Phoenix, now it's just a matter of which one will fall first. If they fall in the Suns' favor, this 'rebuilding' or 'reloading' process, whichever you prefer to call it, could be much smoother than what many people, including me, initially thought.
Be sure to follow Beard And Stache on Twitter 
@BeardAndStache
, and also Adam 
@Adam_Parker43
, Like our Facebook page 
HERE
!