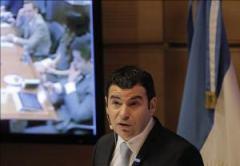 from Latin American Herald Tribune
BUENOS AIRES – Vaca Muerta, one of the world's largest shale oil and gas fields, is not yet fully developed, but environmentalists are already warning of the negative effects that the non-conventional oil play could have on Argentina.
Millions of liters of water, thousands of tons of sand and chemicals will be used to extract oil and gas from the field using hydraulic fracturing, or "fracking," a controversial method that involves pumping a pressurized fluid – usually composed of water, sand and chemicals – into a shale formation to create a fracture in the rock layer and release trapped petroleum or natural gas.
Adolfo Perez Esquivel, winner of the 1980 Nobel Peace Prize, is just one of the project's critics.
"We need to make a formal request to YPF so they will give us the studies on the environmental impact and we can know what the agreement with Chevron is based on," Perez Esquivel said, adding that he was weighing seeking an injunction against the Vaca Muerta project.
YPF, the oil company controlled by the Argentine state following the expropriation of a 51 percent stake from Spain's Repsol, and U.S. supermajor Chevron Corp. signed a $1.24 billion agreement on July 16 to develop Vaca Muerta, which is in southwestern Argentina.
The majority of the non-conventional Vaca Muerta play is in the southwestern province of Neuquen.
Production at Vaca Muerta is currently about 10,000 barrels per day (bpd), but officials see the non-conventional field as a miracle that could help Argentina become energy self-sufficient.
YPF CEO Miguel Galuccio said last week that the project would not harm the environment.
"The environmental impact is a myth in the development of non-conventional resources. Zero environmental impact," Galuccio said.
YPF announced the discovery of non-conventional oil and natural gas reserves in Vaca Muerta in 2011 after successful results in the exploration phase. EFE