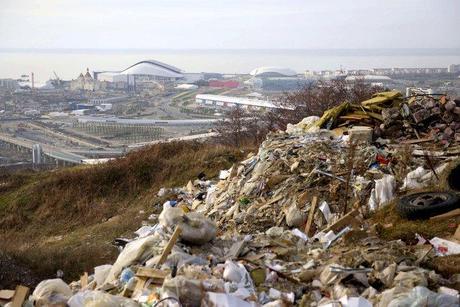 A view of Olympic Park in December. Dump sites for construction debris litter hills in and around Sochi, Russia. Other such damage has been well documented. Mikhail Mordasov/Agence France-Presse — Getty Images
by Andrew E. Kramer / NYTimes
The initial brunt of a police crackdown on protesters at the Winter Olympics — originally expected to target gay rights groups — has instead fallen on environmental activists.
Over the past week, the police have detained two ecologists, ostensibly for violating the public order, and a third has said she intends to leave Sochi to avoid a similar fate.
The arrests raised alarms from Amnesty International and Human Rights Watch, which criticized the stringent controls that the Russian authorities have placed on public shows of dissent in the vicinity of Olympic sites.
Yevgeny Vitishko is an author of a report by a group called Echo Watch North Caucasus on environmental damage caused by Olympic construction. He was arrested Monday and charged with swearing in public. Acquaintances said Mr. Vitishko rarely uses salty language.
He was sentenced to 15 days in jail, disrupting the environmental group's plans to publish the report before the opening ceremony on Friday. The publication was indefinitely delayed.