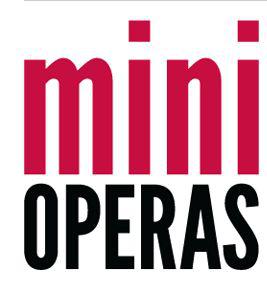 If writing for opera sounds like something you've always wanted to try, but you never dreamed you'd have a chance to try it, you need to know about English National Opera's (ENO) new Mini-Opera writing competition.
Somebody's going to win BIG with something mini, and it might as well be you.
Who should enter this competition? The better question is who shouldn't enter this competition. No one, that's who. If you can write, compose, create with film, there are no barriers to trying your hand at writing opera.
But you better get on it–the script-writing portion is already underway.
See, the ENO is seeking the next generation of opera talent–librettists and writers, composers, and filmmaking–and h

as devised a brilliant way to engage up-and-coming artists.
And if you win the competition, you have a chance to be mentored for a year by some of the  most talented and successful creatives working in opera today: Jeremy Sams, Nico Muhly or Leo Warner.
ENO's Mini-Operas has three parts:
Script Competition (March 26 to May 21)
Soundtrack Competition (June 4 to July 23)
Filmmaking  Competition (August 6 to September 24)
ENO has made the whole competition timeline available here.
Since every great opera starts with a libretto, that's where this competition begins.
For starters, some wonderfully inspiring writers — Will Self, A.L. Kennedy and Neil Gaiman — have each generated seed stories. Those interesting in entering the script competition need to read the seed stories and pick one that inspires them to write a script for a 5-7 minute opera based on that story. In terms of inspiration, anything goes: a single word, title, a mood or even a character name, as the guidelines suggest. All scripts must be in English.
In May, ENO will pick 10 scripts going through to the next round.  Those scripts will become the seeds that people will compose soundtracks for in the next leg of the competition.  Remember that the script will be set to music by someone else and that words can take a lot longer to sing than to read, so "less is definitely more."
Writers have until May 21 to write their scripts and enter them using ENO's online form.
For those who might benefit from some extra coaching in the script-writing department, ENO's  resident author Tamsin Collison has written examples for each story.  They plan to add more expert help to the site before the May 21 deadline, so do check back at the Mini-Operas site for more tips.
What do have to lose? Your mini-opera could be a BIG winner!