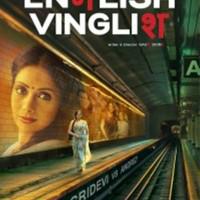 Movie : English Vinglish
Cast: Sridevi, Adil Hussain, Mehdi Nebbou, Priya Anand, Sujatha Kumar, Neelu Sodhi and Ajith Kumar
Director: Gauri Shinde
Rating: ****
Sridevi may have just won the hearts of millions of middle-class Indian housewives with her flawless performance in 'English Vinglish'. Every minute spent watching the film is worth the time we've all been waiting to see the actress back in action.
Sridevi plays Shashi, a middle-class homemaker with exceptionally good parenting and laddoo-making skills. Her only purpose in life has been taking extremely good care of her family despite being ridiculed by her own children and husband at her poor English speaking ability. Along the course, Shashi gets to travel to the US for a family wedding, where persuaded by an advertisement, she signs up for 'Learn English in 4 Weeks'crash course and what follows is best watched on screen.
The character Sridevi played on screen is very close to the character she's been playing off screen. She's returned after 15 years doing something that she was portrayed doing in the first half of the film. She was taking care of her own daughters all these years to date where she's certain that they don't need her support. The language speaking impediment was merely used as a tool to help the audience connect with the character on a more emotional level.
This is not the story of one Shashi, but thousands like her in this country who are subjected to daily embarrassment and looked at as an experienced hand only in the kitchen. Debutant director Gauri Shinde deserves what many filmmakers don't even deserve in today's significantly changing Hindi cinema –a standing ovation. The biggest difference between Gauri and other filmmakers is the fact the she didn't expect Sridevi to return as a star, but as an actress she's always known and cheered for.
Sridevi trades her glamorous yesteryear look for a mature, homely Indian look covered in chiffon sari that will make every mother-in-law in this country look at her 'bahu' and say, why can't you be like her. You may discard Sri's character as very Indian, but it isn't because she plays someone who is blessed with the ability to enjoy life's smallest triumphs. This is the same quality that makes everyone root for her at every step.
Shinde-Sridevi tag team may very well be the best we've had in years and one can proudly vouch for that after watching the film.
The relationship between Shashi and Satish, her husband, is handled deftly by Gauri, as she succeeds in portraying a typical 'I'm the king of the family' type of role. The way satish distances from Shashi without making it look obvious is a brilliantly handled role by Adil Husain. The depth of their relationship is brought forth when Shashi asks him, "If you can casually hug your friend in a mall, then why I don't get to be hugged even when we are close to each other".
Gauri should also be appreciated for roping in two of the biggest superstars of Indian cinema in a pivotal role, Amitabh Bachchan and Ajith Kumar. Ajith's cameo in the Tamil version certainly draws attention and gives his fans every reason to enjoy the film as much as everybody else.
The film was loved equally by one and all because even after 15 years, Sridevi has command over her language, be it Tamil, Telugu or Hindi, and she speaks with confidence, while her s
haky-shrill voice works suitably in favour of her character.
To sum it up, 'English Vinglish' proves that language is only a mode of communication, but not something that can be used to divide people. As brilliantly shown by one scene which has Shashi venting heatedly in Tamil to Laurent, who replies in French, it isn't about language
This review was originally written for IANS news-wire.