End of January...Green House!!
Busy end to January to make the most of the glorious weather we have had. Lot's of jobs completed...the To Do List is getting shorter!!
Notes from my garden diary...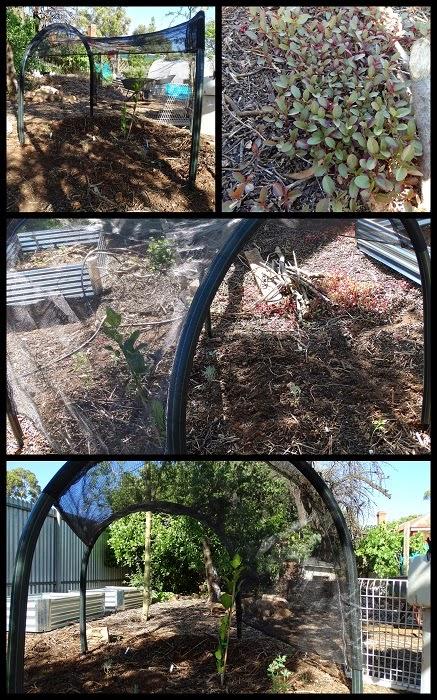 Jan 2015
22nd Jan
Temperature Min 13.3C Max 35.4C
Made the shade cloth cover over the new Lemon tree...sewed hems on the ends to thread the hosepipe through.
Weeded around the tree - mainly Tagasaste and Amaranth...since the rain seedlings are coming up everywhere!!!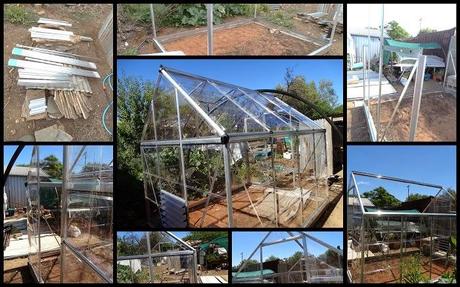 23rd Jan
Temperature Min 17.5C Max 30.4C
We started to build the Green House! We finished it! Glad the temperature wasn't higher because it was hot work!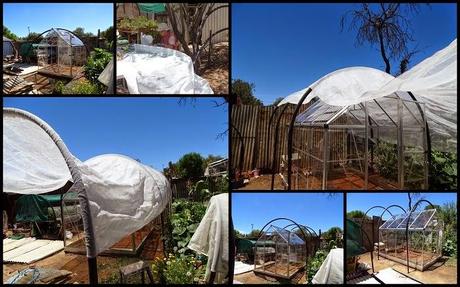 24th Jan
Temperature Min 10.6C Max 27C
Sewed the end hems on some 50% white shade cloth while Doc found some star pickets and poly hose pipe to fit over them. These are now forming a shade structure over the green house which will hopefully help to protect it from the worst of the weather...heat, cold, wind, hail...
25th Jan
Temperature Min 10.9C Max 23.5C
Went to the beach...the Grandies were staying there so we went for a visit! While we were there we got some new pots for the shade tunnel and some fun windmills just coz!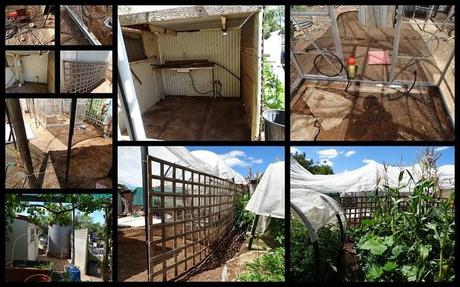 26th Jan
Temperature Min 6C Max 23.4C
Sorted out the hoses to go into the green house and still allow me to water the plant tables and the rest of the garden. Doc dug a trench to bury and cover the hose once it was all sorted.
Doc rescued a stainless steel sink from the old dog enclosure out the back and then proceeded to dismantle the structure.
We have reused some trellising that is no longer needed out the front...it has been put along the south side of the greenhouse to give it even more protection from winds.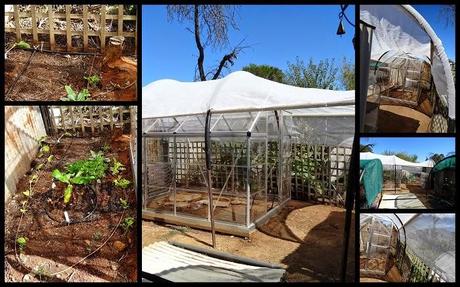 27th Jan
Temperature Min 9.5C Max 24.7C
Attached more hose to run down the side of the Green house for a small planting in behind it. Attached drippers and dripper hose then planted out the Dwarf Red Dacca Banana I bought last year...it should be a protected, warm spot for it. Also planted out some of the Comfrey root cuttings I took last year and some potted Valerian and Lucerne too. These can be cut for mulch and brewed into plant teas.
We attached some PVC tubing on Green House Shade Cover to keep the hoops aligned and anchor the shade cloth. Tidying up around the garden...more pots to sort through...
Soaked bean seeds for sowing tomorrow.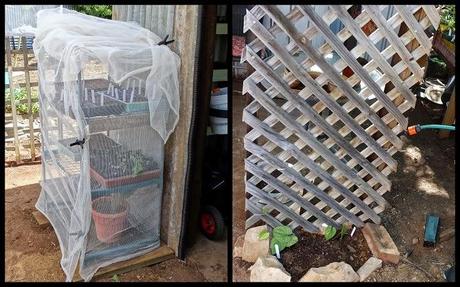 28th Jan
Temperature Min 9.3C Max 25.9C
Sowed Beans Frost and Flageolet Flagrano  
Planted Spiky Cucumbers
Emptied and moved small greenhouse stand ready for some Autumn seed sowing.
Reused another piece of trellis from the front to block one corner of my little pot store shed...planted a couple Japanese Yams in the soil at the base.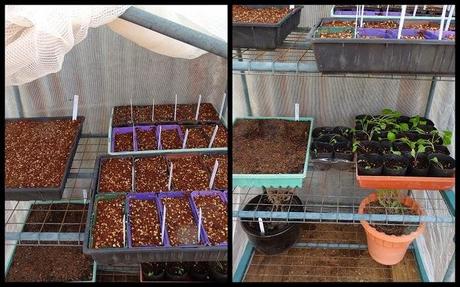 29th Jan
Temperature Min 11C Max 27C
Sowed seeds of :-
Brassicas - Broccoli Mediterranean Sprouting & Albert, Brussels Sprouts Long Island & Ruby, Cabbage Red Choi, Red Drumhead & Portugal Summer (Couve Tronchuda), Cauliflower 60 Days,  Asian Greens Mix (Pak Choy, Tatsoi, Tokyo Bekama, Vitamin Green and Coriander), Mizuna Red and Lime Streaks
Herbs - Coriander, Mitsuba and Chinese (soup) Celery
Lettuces - Australian Yellow Leaf, Cos, Freckles Bunte, Red & Green Salad & Tennis Ball.
A tray Peas for Pea Shoots
Potted up White Rock Rose cuttings 
Potted up a purchased punnet of Silver Beet Rainbow Mix that were very crowded in the punnet.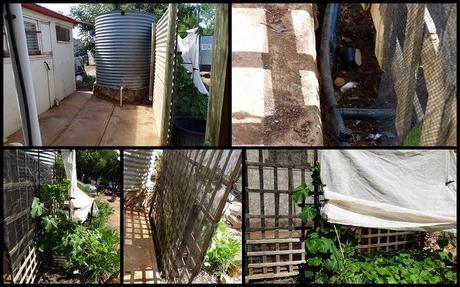 30th Jan
Temperature Min 11.4C Max 29.3C
We were hoping to be able to remove the galv iron behind the trellis out the back without disturbing the plants too much. What should have been a 10 minute job took a bit longer than that when a star picket found the main water supply pipe (plastic pipe). Luckily we keep a supply of joiner fittings and Doc was able to fix it. But we had to dismantle the whole trellis to dig down to get to the pipe in behind the bed. All fixed now and looking much better...I'm sure the plants will recover!
Took cuttings from the Sweet Appleberry that was one of the disturbed plants...just in case it doesn't recover.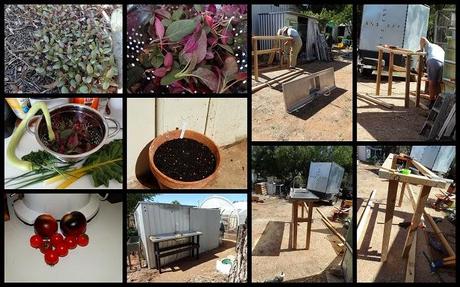 31st Jan
Temperature Min 11.5C Max 27C
Planted 3 Saffron Crocus bulbs in a pot.
Harvested some Amaranth self sown micro greens and cooked them up along with some tomatoes, parsley, silverbeet and tromboncino zoodles with a few of the girls eggs thrown in. Yum.
Doc built a new stand for the sink...a coat of paint on the wood and it was put into place. Now I have somewhere to wash out pots and veg from the garden that is a comfortable height to work at!
This week I have been harvesting...
Volunteer Amaranth micro greens
Chives
Cucumbers Green and Mini White ones
Kale
Parcel
Parsley
Silverbeet
Spring Onions by slicing close to the base so they will regrow
Tomatoes
Tromboncino
Zucchini
Plums