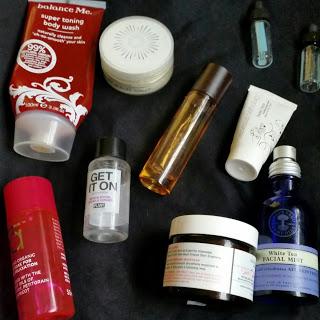 I have finally got around to November's Empties. I don't seem to have had a spare minute lately. I am sure everybody feels like this at this time of year.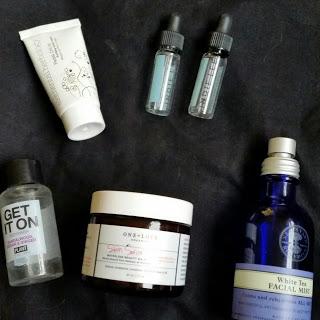 Elemental Herbology Facial Detox is a lovely gentle mask. I enjoyed using this but much prefer their Facial Glow Radiance Peel so would buy that instead. Indie Lee COQ-10 Toner. I got a couple of uses from the vial. I though it was nice but wasn't blown away by it, so probably wouldn't buy the full size. Indie Lee Squalane Facial Oil on the other hand I loved, and the full size is on my wishlist. Can you tell I am steadily working my way through my Beautiful World box yet? I was also very impressed with my sample of Get It On body wash by Plant. I loved the fragrance and definitely want to try more from the brand. One Love Organics Skin Saviour. This is one of my all time favorite cleansing balms. It also makes a very good facial mask. I have a couple of the sample pots of this. Neals Yard Remedies White Tea Facial Mist. This is another product that I loved and would happily buy a replacement for.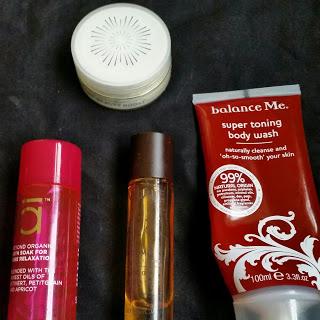 Oskia Bedtime Beauty Boost. I really wanted to like this as everyone seems to rave over it. It didn't love me. I don't know quite what, but something irritates my skin. I haven't finished this, but have given it up as a bad job. Ila pure Relaxation Bath Soak. I loved this. It is so calming. I have already bought a replacement. Caudalie Divine Oil. I really liked how soft this left my skin, but found the fragrance overpowering. I won't be repurchasing this. Balance Me Super Toning Body Wash. These crop up pretty regularly in my Empties posts. I really like these and will continue to repurchase.