These are always my favorite posts to write, and the ones I look forward most to reading. The monthly round up of products I have finished. Here is my June empties post.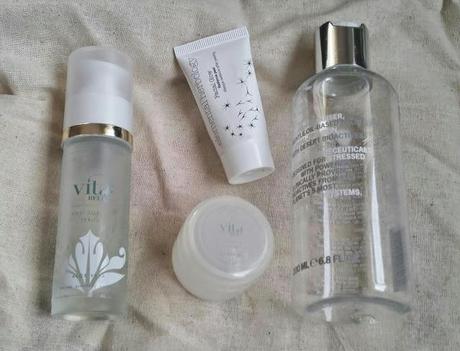 The first two items are by VitaBella. The first is their Anti-Aging Serum (30mls) which was sent to me for review here and the second is a 15ml sample of their Anti-Aging Face Cream. I have really enjoyed using both the serum and the moisturiser. The serum lasted almost 4 months of daily use. I think it helps with the appearance of finer lines and loved how healthy it made my skin look. I have another couple of serums I want to use next, but would happily buy this myself. The moisturiser is better for dry skin and suits me perfectly. I have another sample and a full size of this in reserve. Facial Glow Radiance Peel (15ml) by Elemental Herbology is a fantastic face mask. I absolutely love this mask. It makes my skin glow. I actually prefer this to Ren's Glycolactic Renewal Mask and I never thought I would find something to beat that. I have several other sample sizes stashed. Nourish Cleanser (200mls) by S5 Skincare. I reviewed this last week and enjoyed using it a lot. I desperately need to reduce my stash of cleansers before I buy anymore.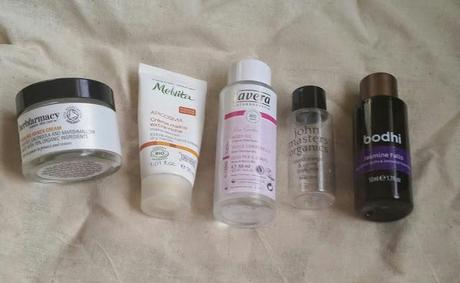 Working Hands Cream (50g) by Herbfarmacy is just wonderful. Made with Comfrey, Calendula and Marshmallow it is perfect for giving dry, sore hands some tender loving care. I love that the label says fresh from the fields of Paul Richards, talk about knowing exactly where your products are from. I can only find a link for 100g in a tube, so not sure if mine was a special edition. I would happily buy this again. Apicosma Hand Cream (30mls) by Melvita is another hand cream I enjoyed a lot. Very good for dry skin, I have another sample of this. Rose Garden Body Oil (50ml) by Lavera is a very fragrant and deeply moisturising body oil. Good value for money, I would buy this again. Blood Orange & Vanilla Body Lotion (30mls) by John Masters. I love this sweet and citrusy scent. I have another couple of samples of this and will buy the full size ay some point. Jasmine Falls Bath & Shower Therapy (50mls) by Bodhi & Birch. I loved this. Oh so feminine, smells divine. I have a couple of others from Bodhi and Birch to use, but this is one of my favorite scents.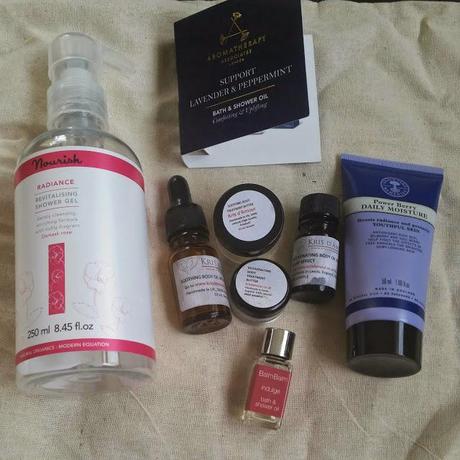 Radiance Revitalising Shower Gel (250mls) by Nourish. Another product that was lovely to use. Very gentle on my skin and had a rich rose fragrance. I think next time I will buy the Protect fragrance as it has a gorgeous cheerful citrus fragrance. Support Lavender and Peppermint Bath & Shower Oil (3mls) by Aromatherapy Associates. This was nice to use, but not my favorite fragrance. I will buy other oils from the range. Soothing Body Oil and Body Butter samples by Kris D'Amour. I really liked these samples, I think that the body oil has the edge over the body butter. Rejuvenating Body Oil and Body Butter samples by Kris D'Amour. This is the range I liked the best (although both were lovely). The Body Oil is going on my wish list. Power Berry Daily Moisture (50mls) by Neals' Yard. I didn't get on with this. I found it took a long time to absorb into my skin and have been using it as a body lotion. I won't be buying the full size. Indulge Bath & Shower Oil (5mls) by BalmBalm. I love these little bath oils and will certainly buy again in the future. What is on your Empties list this month?