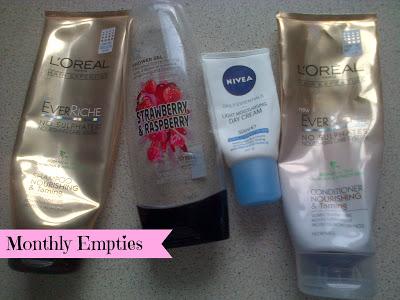 That time again for another monthly empties!there isn't alot of products i have got through in June as mainly trying to use things up that i have not used or just forgot about.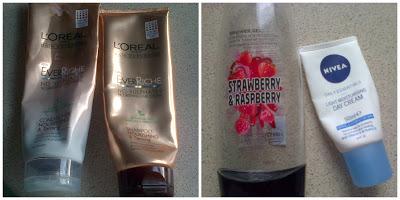 L'Oreal Ever Riche shampoo and conditioner: Just you're bog standard shampoo and conditioner not much to say on it really, i wanted a shampoo that would help with my dry hair and it hasn't made any difference whatsoever the shampoo it quite thick and takes it's time to lather up. The conditioner is thick also and made my hair feel lovely and soft but i don't think i would re purchase these products again.
Superdrug Strawberry and Raspberry bodywash: Such a real fruity smell to this which i totally love and was a joy to use, made my skin feel super soft and i could smell the fragrance on my skin during the day, this was only £1 so i stocked up on a few!
Nivea Day Cream: This has took me a LONG time to use up almost glad to see the back of it! It was a good day cream for me as it was light and non greasy and sunk straight into the skin leaving it feeling supple and soft to the touch, i would re purchase again at some point.