Hello there! I'm hosting a very fun challenge at Elle's Studio blog. I'd love for you to play along + create a project that mixes + matches using any collection along with the August exclusive kit.  
Today, I'll be sharing a layout that I created that suited this challenge.  Let me share with you the creative process...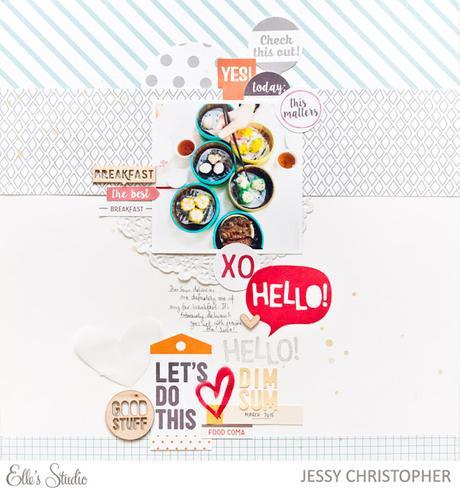 I started off by selecting the collections that I want to create with i.e. Let's Eat, Cienna & Shine + the August kit as well. Once I'm done with that, I picked patterned papers (that leaned towards graphic lines) from each collection to begin with. After the patterned papers placement, I adhered the photo in the middle. Then, I begin to work around the photo and slowly to the bottom of the layout. I wanted to use a lot of labels & tags onto this layout to create a heavy typography kind of layout. This layout is perfect to use all the little bits & pieces lingering in your stash. Once that is all done, I completed this layout with a stamped + alpha stickers title, tucked a doily, journaled and sprinkled some gold mist.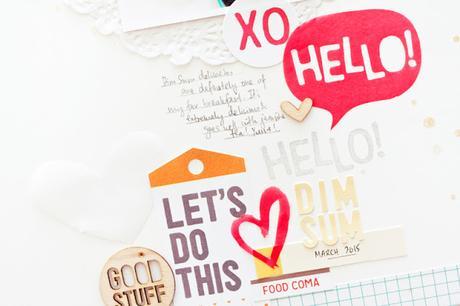 I absolutely love the fact that all Elle's Studio collections can be mix + match easily. And I do hope that you will join this challenge & play along. Be sure to share your project & 
upload it to the 
Member gallery. 
Product list: 
August exclusive kit
Oh No! Stamp Set
Cienna 12x12 'You Are' paper 
Cienna Bits & Pieces
Cienna Wood Veneers
Let's Eat 12x12 'Meal Planner' paper
Let's Eat Stickers
Let's Eat Wood Veneers
Shine 12x12 'Fun + Sun' paper
Shine Bits & Pieces
Thanks for coming by!
Xoxo Jessy