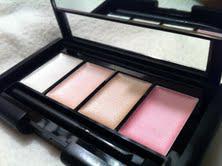 ELF Shimmer Palette
My current favorite products at the moment are highlighters. I have pale skin and it can be hard to create a healthy, natural looking glow but highlighters are the perfect product to create a shimmery look. I purchased the ELF Shimmer Palette along with the ELF Complete Coverage Concealer Palette (full review here) a while ago now. At the time I wasn't on the look out for a Shimmer Palette but  at just £3.50 I couldn't resist!
The palette comes in a sleek black case complete with mirror and small brush. I'm not a fan of the brushes that accompany this style of ELFcompact as they are very small and a little bit pointless really. One of the best points about the packaging is that it feels really sturdy and you can carry it around in your bag feeling confident that the contents won't spill out everywhere.
The shimmer palette has four shades: a pearlescent white, a peachy baby pink tone, a champagne color and a pinky rose color. They feel very wet and almost oily to touch however, they apply and blend very easily. I found the oily texture  a little off putting at first and it made me think that they would lack staying power. Although they aren't the longest wearing highlighters they do give about four hours wear. They are really easy to apply and look lovely on. They are also surprisingly well pigmented for a product with a slippery,oily texture.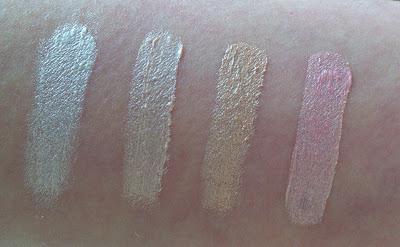 ELF Shimmer Palette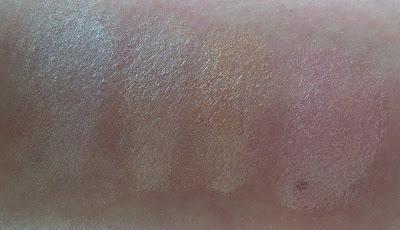 ELF Shimmer Palette blended
These can be used on their own or blended together and can be used anywhere on the face. I use them on the brow bone, the cupid's bow on my lips, in the corner of the eye and on the cheeks. The ELF Shimmer Palette is versitiale, affordable and easy to wear. The only real downside is the oily texture but this is a personal preferance and it doesn't stop me using it. The ELF Shimmer Palette is a great and inexpensive way to add a little shimmer to your makeup bag.