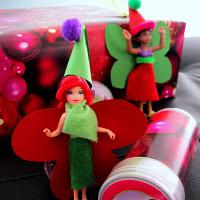 It's no secret that shortcuts are my friends, especially when it comes to crafting.  While blog-hopping the other day I found lots of great ideas but two stood out.  I considered doing one project then another, then realised I could merge the two and save time and still get the impact I was after.
The first was a post on how to make a DIY Girlie Elf on a Shelf project at
Bubbly Nature Creations
.  The shelf-elf craze is all over the Internet, and this post shows how to turn a 'standard' doll into a fun, girlie elf that gets up to all sorts of mischief.
The second post revealed how to add Santa to a photo of your home at Toys in The Dryer.  The idea of showing your children 'evidence' that Santa really was there is not new, but the tutorial on this blog is excellent.
In our house presents for birthdays come from Mum, Dad, Sister and The Fun Fairy.  My daughter Mimi, who turned 4 in October, wanted to know if the Fun Fairy still turned up when Santa seemed to be all-pervasive at Christmas time.  I told her she would and was sure to bring something special.   As I was speaking, I remembered the two blogs above and thought; "what if I created two fun fairies and took a photograph of them wrapping those special presents in our home, and then used the photos as 'Merry Christmas' cards to attach to the presents."
So that's what I've started to do.  Using left over scraps from my recent felt-projects, I made no-sew skirts for two little dollies (held in place with double-sided tape), then added paper hats with pom poms, some pipe-cleaner faux fur, and a set of paper wings to each.  I then propped them up on the presents the Fun Fairy magicked-up for them, and took photos, one photo for each daughter, focusing in on their present with the other fairy off in the distance.  On Picasa I tweaked them slightly, making them a bit greeny-blue to make it seem more magical, and if I get time before printing them, I'll try to take them into photobucket or another free-editor to add some sparkle.  The photo in the corner is indicative, and doesn't show the branded-products falling out of the wrapping.
I'll post my daughter's reaction after Christmas, but until then; remember you don't have to be too literal when you read other people's craft ideas - take a pinch of this, a smidgen of that, and mix it all into your own special recipe!