by John Deike / EcoWatch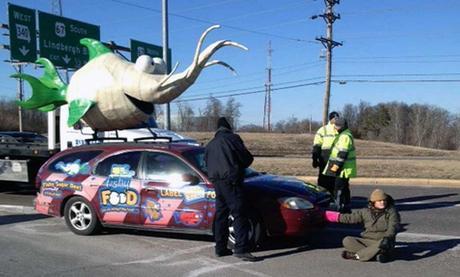 photo credit: EcoWatch
Dozens of protestors from around the globe rallied against Monsanto, the world's largest seed company, on Tuesday urging its shareholders to consider the risks of growing and consuming genetically modified crops.
Protestors, with signs in hand, converged at the Monsanto headquarters in suburban St. Louis, MO during the company's annual investors meeting in support of two shareholder resolutions that questioned the level of contamination passed onto non-GMO (genetically modified organisms) crops and requested the seed giant end its fight against mandatory labels on foods containing GMO ingredients, reports Reuters.
The resolutions failed by considerable margins and 11 protestors were arrested after attempting to disrupt traffic near the Monsanto gates.
"Right now there's a growing movement to label genetically modified food," said Dave Murphy, executive director of Food Democracy Now!, who presented the labeling proposal at Tuesday's shareholder meeting "Monsanto has chosen unfortunately to resist the rights of American people."
Over the last two years, Monsanto has spent more than $13.4 million to defeat GMO labeling efforts in California and Washington state, said Murphy.
Shareholder Adam Eidinger introduced the labeling resolution, hoping to get at least 7 percent of investors to support it, but wound up with just 4 percent, according to the St. Louis Post-Dispatch.
The second resolution, introduced by shareholder John Harrington, focused on Monsanto's potential liability to organic farmers. It received just 6.5 percent support from investors.
Live audio of the shareholder meeting, which was broadcast for the first time on the internet, also attracted Monsanto supporters, reports the Wall Street Journal.
Justin Danhof, general counsel for the National Center for Public Policy Research, told WSJ.com the protest was a "campaign of junk science" against biotech foods. Danhof insisted Monsanto combat the environmentalist outcry by enlisting its scientists as spokespeople on talk radio and other media to create an open conversation with the public.
According to Reuters, the protest resolutions were backed by environmental, food safety and consumer activist groups. Protestors said that 2.6 million members of those groups support the anti-GMO initiative.
"It's time that Monsanto join the 21st century and allow Americans the basic right to know what's in their food, something that's already done in 64 other countries around the world. Why not America?" said Murphy.