Alvie and I got invited to the opening of El Sur, the new Mercato of the south, conveniently located at Alabang Town Center. This also marked my first time back in ATC since high school. During the two-hour drive it took us to get there, I remembered why. Haha. Nevertheless, it was a fun night we were more than grateful for.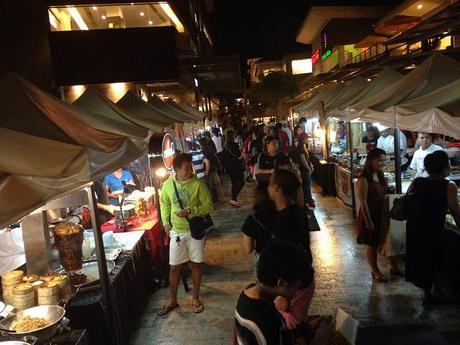 Feels like Christmas.
The event was slightly drenched by the rain, but fortunately, it eventually stopped and things started kicking off. Most of the crowd was not at this event, probably because Martin Nievera was having a show about 5 minutes away. Not as festive as I expected, but hey, more food for us, right? Haha.
We settled down and found a small, moist table to start eating. We found some hilarity from Alvie's nametag. On the contrary of some people's assumptions, we are still single! An understandable and funny nametag mixup. :)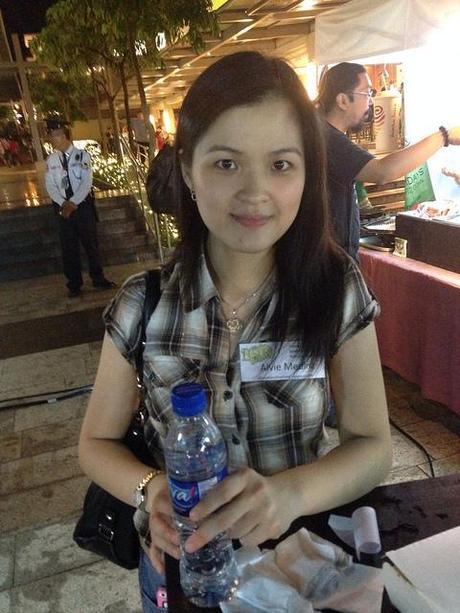 Juana Bowl?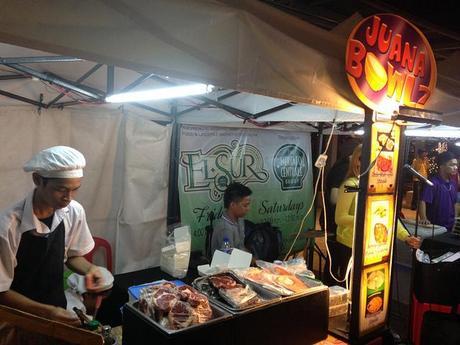 Meat and more meat.
Our very hospitable host introduced us to some of the restaurants, the first being "Juana Bowl?". Yes, I do! Unlike some of the other stalls, you won't get to see the food ready to eat here, but their food is definitely worth a shot.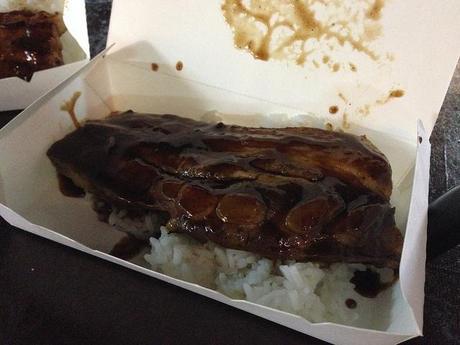 Malted Pork Ribs, P100.00
This large slab of meat is a steal at a surprising 100 pesos. It was soft and sweet, just like I like it! I have a habit of not wasting food, so I had to eat all this up (Alvie had her own). Very cool, but not cool that I won't have enough space to try everything at El Sur. Haha! We were fortunate to have a band to listen to while eating. Songs like Sixpence None The Richer's Kiss Me were being played. Nice!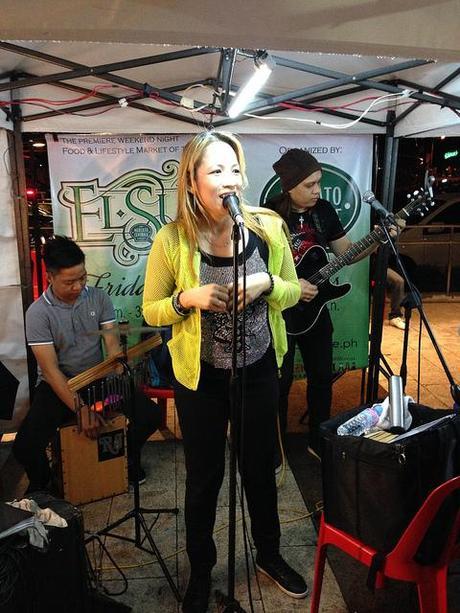 Lively music.
We got to catch the ribbon-cutting as well. Here, I was able to grab a picture of Anton Diaz and crew launching the start of El Sur.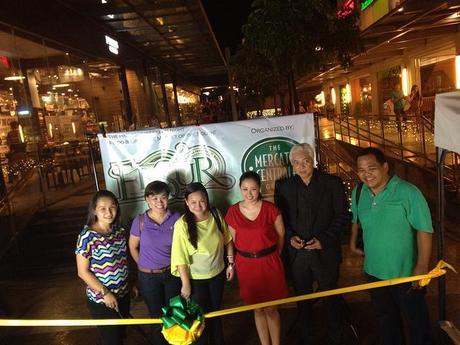 Ribbon cutting.
Cheat Day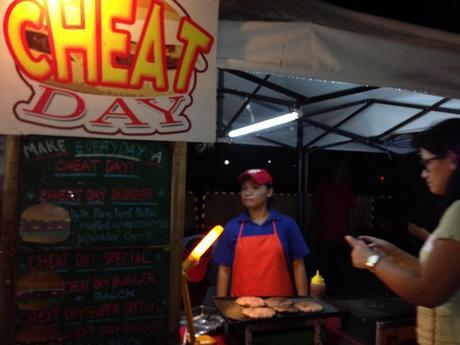 Make Everyday a Cheat Day!
There were many stalls, but it is impossibly difficult to ignore mozzarella and cheddar stuffed burgers!!!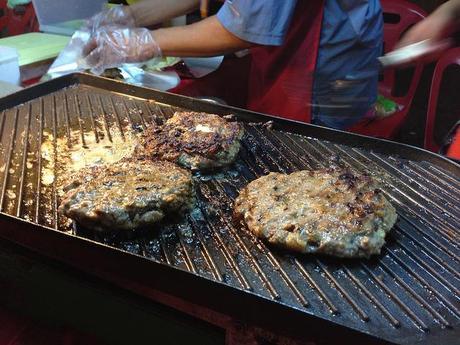 Cheese-stuffed patties!
This was the image that ultimately drew us to the stall.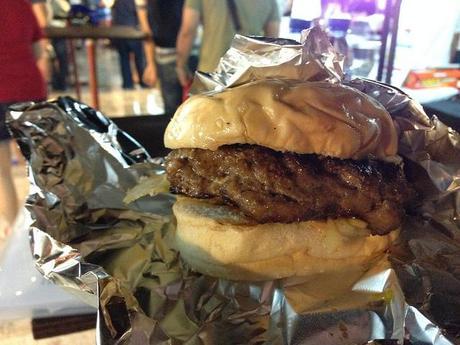 Cheat Day Burger, P250.00
1/3 lb. Pure beef pattie stuffed w/ Mozzarella & Cheddar Cheese.
Oh yessss. We really quite enjoyed this one. I would definitely want to order this again next time around. There was also a similar stall with more "stuffing" options like bleu cheese called Macheesemo Burgers, but our stomachs already achieved the recommended daily burger allowance that day. I'd want to try that one too, next time.

Chef Tabachoy
The name makes sense because how can you
really
 trust a chef's skills if he isn't at least pudgy? Haha! This stall specialised in spreads, and very interesting ones, I might add.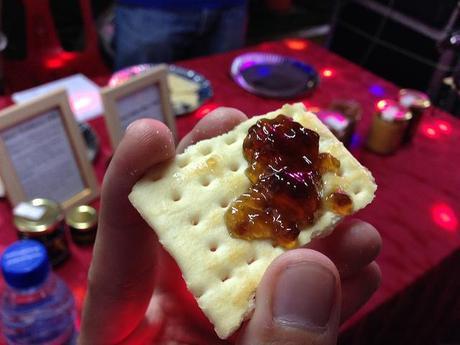 Cranbeery Jelly, P155.00 per jar.
Brewsky without the Bitter. Dark Fruit. Full Flavored. Guinness Foreign Extra Stout. Extra Hops. Roasted Barley. Me Very Happy.
See what I mean about interesting? That isn't a typo. This is beer/cranberry jelly and it tasted really good. Surprising for me because I usually hate cranberry jelly. I just found the type of jelly I need for turkey! It did taste like beer without the bitter taste. Made with Guinness, too! Many other spreads were there like Pickled Shrooms (really good) and White/Red Wine Jelly but one stood out: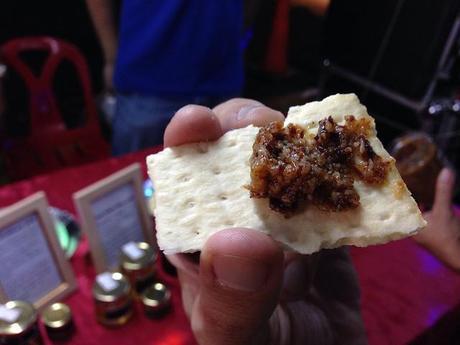 Bacon Jam, P250.00 per jar.
Yep. That's jam made of bacon. Just in case butter isn't heart-attacky enough for you. Haha. It wasn't love at first taste, but even until now, I can't quite say I understand the taste a hundred percent yet. It isn't amazingly good, but it's very interesting, and interesting is what I want. I even bought a jar to take home and let others try! It needs to keep cool, so it comes in a nice thermo-what-do-you-call-it bag.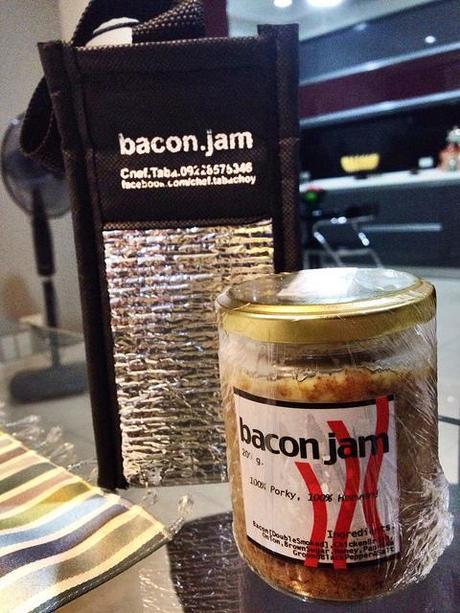 Portable Cholesterol!
Rice Pots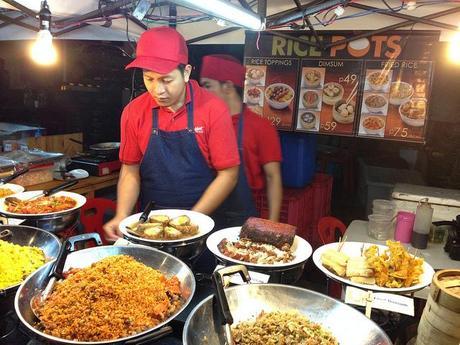 Super Mario inspired uniform?
One of the stores our host introduced to us was Rice Pots. Though I was quite full at this point and the prospect of more rice wasn't extremely appealing to me, I looked forward to trying more new food.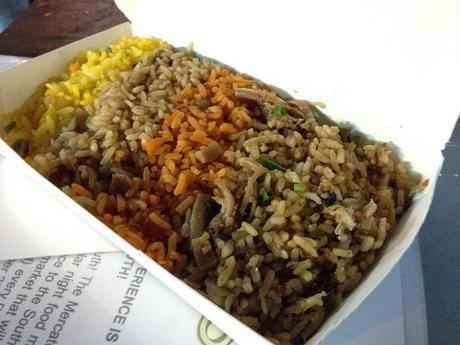 Yang Chow, Adobo, Pork Binagoongan and Sisig Fried Rice.
I love this because white rice is just so boring for me (unless it's Japanese or Basmati). This was a whole lot to finish and was really heavy. Haha. Most weren't as flavorful as I hoped, but they were all good. The Sisig fried rice was the best one.
Pappy J's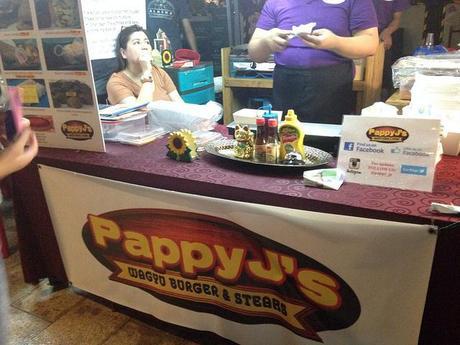 We hung out here for quite a bit!
One of the last stalls we visited was the Wagyu-filled Pappy J's. We were supposed to start heading out, but found ourselves checking out this last stall before we hit the road.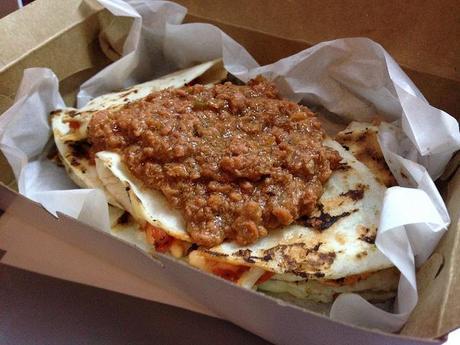 Chicken Quesadilla, P100.00
I hereby declare these to be the best value-for-money quesadillas ever! A big serving of great-tasting stuff. Don't expect it to be better than actual Mexican restaurants, but it's pretty damn fun.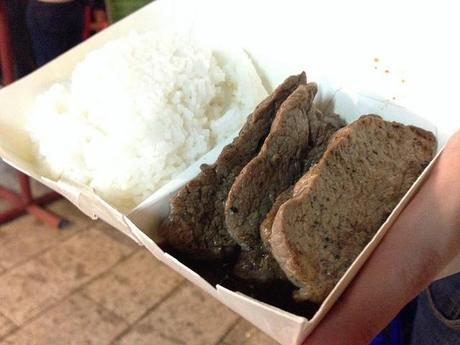 Wagyu Steak, P175.00
Oh no, more rice! This steak was good and meaty, but I was expecting it to be much softer. Perhaps the word "Wagyu" just raises expectations for me, but I am no Wagyu expert.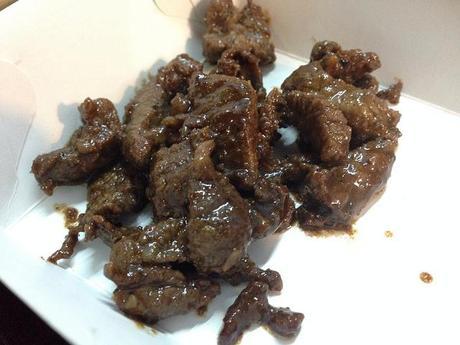 Wagyu Tapa, available in Wagyu Tapsilog, P150.00
This Wagyu was more like it! It had the usual salty tapa taste but was noticeably softer than usual. I enjoyed snacking on this. It must go great with the silog!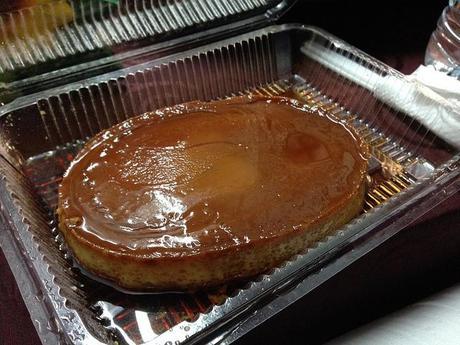 Leche Flan (Large), P70.00
Pappy J didn't let us end on an unsweet note! This leche flan was good, but noticeably a bit eggy and could have been creamier. As opposed to Wagyu, I
do
 consider myself to be a leche flan connoisseur! But still, for 70 bucks, this is a good buy.
What we missed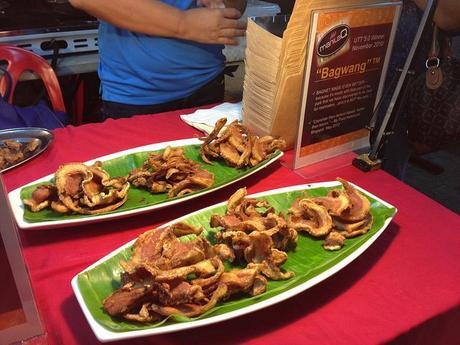 Well, Alvie did get a tiny taste of this, but a tiny taste is not enough! She liked it.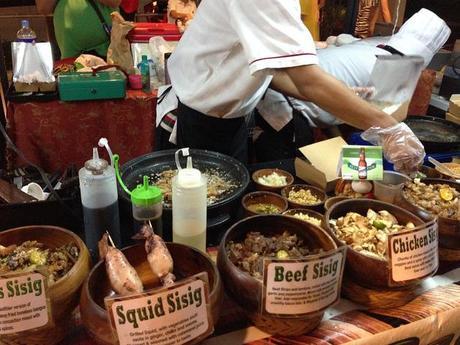 All kinds of sisig!
Verdict:
Malted Pork Ribs: Good
Cheat Day Burger: Great!
Cranbeery Jelly: Good
Bacon Jam: Good
The Fried Rices: Okay
Chicken Quesadilla: Very Good
Wagyu Steak: Okay
Wagyu Tapa: Good
Leche Flan: Okay
The place was smaller than your average Mercato, but not lacking in the amount of interesting food! Thanks, Ian, for inviting us over! If you're ever in the area, head on over to El Sur and check out all the interesting food!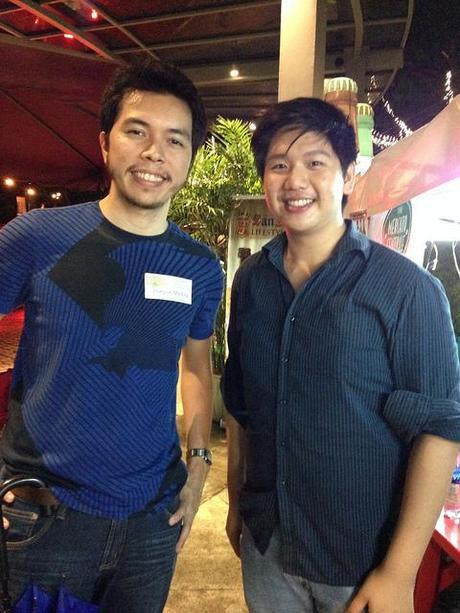 What's
your
favourite El Sur restaurant? Let me know by commenting below, or just
tweet
me!

El Sur Details: