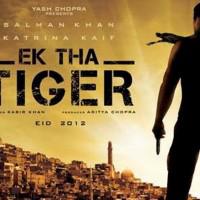 Movie: Ek Tha Tiger
Director: Kabir Khan
Cast: Salman Khan, Katrina Kaif and Girish Karnad
Rating: ***
If you're an ardent Salman Khan fan, you couldn't have asked for a better film. The two Khans, Salman and Kabir join hands for the first time to give an out-and-out action packed romantic thriller with finesse, style and substance.  Far different from usual films, but with same amount of entertainment, 'Ek Tha Tiger' presents Salman in a role tailor-made for him. Also to be seen in this film with the Tiger is his Tigress, Katrina Kaif, who thankfully is blessed with a role far better and different from her films in the past.
To enjoy 'Ek Tha Tiger' to the fullest, you need to do the following –
Pick the smallest theater in your city/town
Make sure you keep your mobile in silent mode or switched off to save yourself from getting beaten up whilst watching the film.
Feel the craze for Salman Khan when his fans go crazy the minute he first appears on-screen. Join the fans in whistling, hooting and doing everything that they do in the cinema hall. It's super fun, trust me!
Don't you dare pass any comment against Salman! He's Salman and moreover he's a RAW agent, which gives him the ticket to leap off tall buildings or stop a speeding train with a coat.
Finally, when you leave the theatre, you're sure to feel two things – the buzzing background score in your head and unforgettable images of Katrina's stunning beauty.
I suppose Kabir Khan has some kind of fetish for terrorism as all his films thus f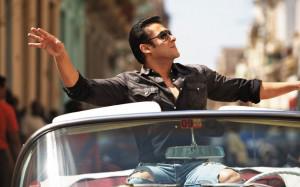 ar have dealt with terrorism or its aftereffects, including 'Ek Tha Tiger', which tells us the story in the lives of RAW and ISI agents of India and Pakistan. Salman Khan plays Tiger, one of the finest RAW agents of India. Tiger, as he's fondly called returns home from Iraq after the successful completion of a mission, only to learn that his next mission is in London. He's expected to closely observe and follow a Professor who's suspected of leaking information about India's anti-missile technology to ISI agents. Tiger meets Zoya, who works as a part-time caretaker and falls head over heels for her. What happens between Tiger and Zoya forms the rest of the story?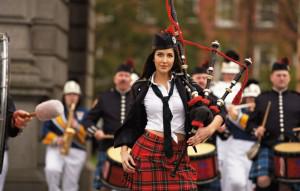 In this RAW, ISI make love in paradise story, you don't expect logic but only entertainment. The story takes us through some scintillating locales, by looking at which you'll ask yourself, of all the places why should someone come here to make war but not love. The plot after a certain point becomes predictable and what's to follow becomes easy to anticipate. Although, Kabir's version of RAW v/s ISI story has plenty of action and equal amount of drama, you'd definitely feel the film lacked the spirit to turn into one of the best thrillers of the recent past.
Fans of Salman and rest of the audiences alike will definitely enjoy the action in the film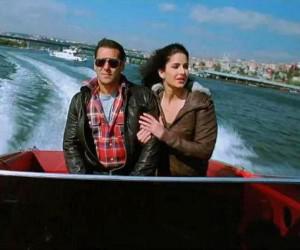 . Crisply shot and edited, the fight sequences are presented in style and appear plausible. The action is intelligently synced with some brilliantly executed chase sequences, shot atop of buildings, through narrow streets and crowded market places to add extra moments of 'Salmanism'.
The first half took off like a jet boat, at amazing pace but come to the second half; you feel a block in the flow of the story. Salman couldn't have given a better performance and thankfully you don't see him mouthing cheesy lines while Katrina gives one of her career best performances. The humor in the film is likeable and doesn't appear artificial. Especially, the initial moments between Salman and Katrina are truly enjoyable.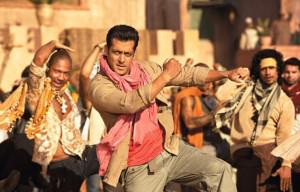 Kabir Khan may have just given the biggest hit of the year but this definitely doesn't qualify as the best film. His intentions were crystal clear – he wanted to make a film that'll have Salman Khan written in every frame and he succeeded in that. Music by Sohail Sen is memorable but it's the background score that stands out.
In essence, 'Ek Tha Tiger' is a Salman Khan film all the way, though made by Kabir Khan.