Here is an unique,unusual yet absolutely lip smacking combination.A stir fry with tomato and egg plant.This is my mom's recipe that too started making this very recently.I tasted this when I went to my home last month.Initially when she told she was making this stir fry I was very skeptical thinking how would tomatoes taste with egg plant.I thought the stir fry may turn out soggy and mushy,but it did not!. It was so crunchy yet juicy with perfect hot and tangy taste.Give it a try to know what I mean :)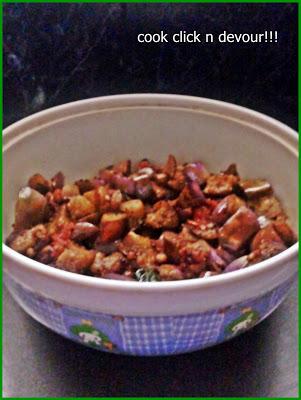 Eggplant-tomato stir fry
Star ingredient-Egg plant-tomato
Time-15 minutes
Serves-3 
Ingredients:
1/2 kg small purple egg plants
1 large tomato
1/2 teaspoon black pepper powder
1/2 teaspoon chilli powder
1/2 teaspoon coriander powder
1/2 teaspoon turmeric powder
1/4 teaspoon asafoetida
10 curry leaves
1/2 teaspoon urad dal
1/2 teaspoon mustard seeds
Salt
Sesame oil
Method:
1.Wash and chop egg plants and tomato into cubes.
2.In a kadai,heat little sesame oil and temper mustard,urad dal,asafoetida and curry leaves.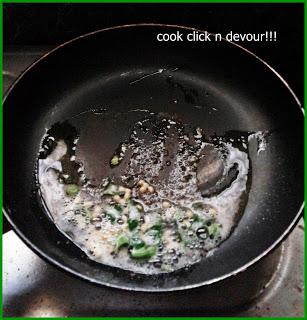 3.Add the tomato pieces and saute just for 2 minutes.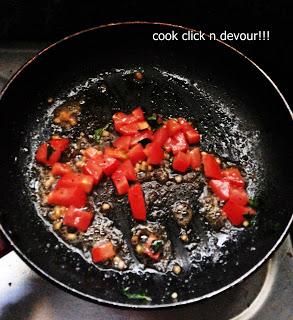 4.Next add the egg plant cubes, followed by chilli,turmeric and salt powder.Saute for 5 minutes.Add 1/2 teaspoon of oil if needed and saute for 5 more minutes.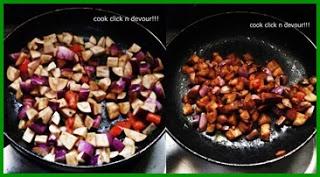 5.Add black pepper powder and coriander powder,saute for just 2 minutes and remove from heat.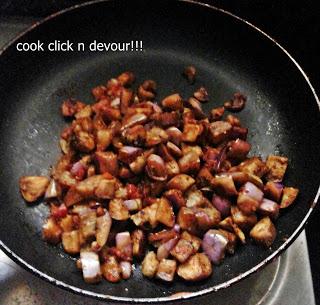 6.Serve with rice or rotis.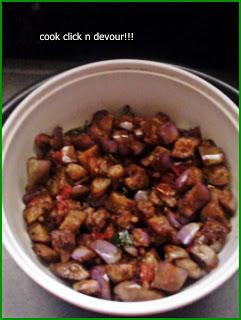 Notes:
1.Do not cook egg plnts and tomato for long time.They ay loose their crunch
2.Use hybrid (Bangalore) tomato for this recipe
3.Sesame oil renders very unique taste and flavor in this recipe.