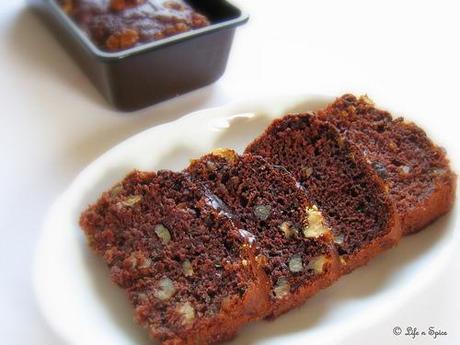 Some like it healthy and plain, some like it brown and chocolatey. I belong to the latter group that would never say no to anything with chocolate. So this healthy, moist and delicious Zucchini bread got a small dose of chocolate. Then there were those whole walnuts we collected last Autumn and we still had plenty left. So some of them went in to this bread too.

The result was a super moist bread with crunchy walnuts in between. This bread can very well go for a cake too with the addition of little more sweetness. But this was baked in a loaf pan and hence it shall be called a bread.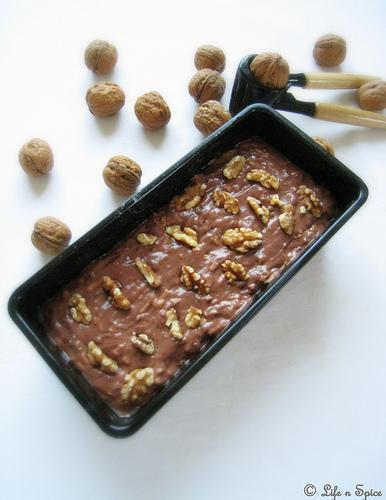 Prepared loaf pan ready to go into the oven
On a different note, weather in my part of the world is getting better and better. Although the temperatures are pretty much low, we have beautiful sunny days heralding the arrival of spring. Days are getting longer and it feels good to wake up in the morning and feel the early rays of sun through the window. Yay! :-) I'm so looking forward to vibrant Spring which would also mean more cooking and blogging!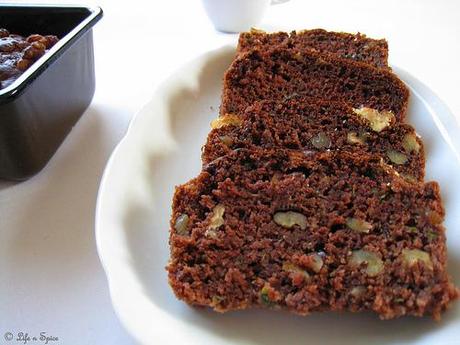 Coming back to the recipe, this was pretty much easy and straight forward. I adapted this recipe from here. The bread was an instant hit at home. This recipe for me is a keeper and I will definitely be making it more often from now on.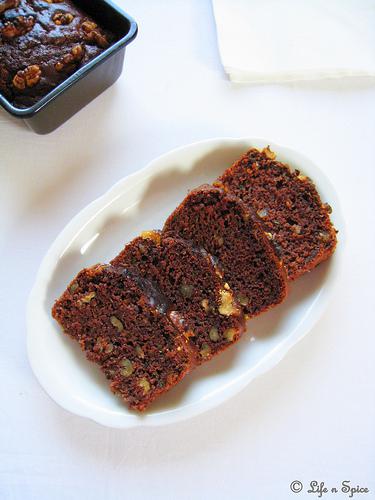 Ingredients:
1 1/2 cups all purpose flour
4 tbsp unsweetened cocoa powder
3/4 tsp cinnamon powder
1 1/2 tsp baking powder
1 tsp baking soda
1/2 tsp salt
1 cup sugar
1 1/2 cup grated zucchini (I used 1 medium sized zucchini)
1/2 cup chopped walnuts
3/4 cup thick plain yogurt
1/4 cup oil
1 tsp vanilla extract
Recipe:
Preheat the oven to 180 degrees C
In a large bowl, mix together flour, cocoa powder, cinnamon, baking soda, baking powder, salt and sugar.
In another small bowl, whisk together yogurt, oil and vanilla extract. Pour this into the dry ingredients. Mix well with a spoon.
Add the grated zucchini and mix. Fold in the chopped walnuts.
Pour into a greased and floured/lined loaf pan. Bake in the pre-heated oven for 1 hour or until a tooth pick inserted in the center of the loaf comes out clean.
Allow to cool to room temperature before cutting and serving.
Yields: 1 loaf
Preparation Time: 30 minutes
Baking Time: 60 minutes
Don't miss a post. Subscribe to Life n Spice by email!