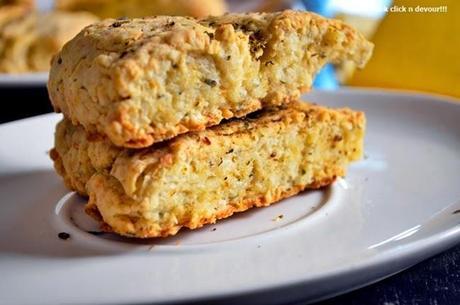 The bug has bitten me again,my favorite little bug-baking bug :). I am growing obsessive with baking day after another.I never seem to get bored, measuring,sift,kneading or mixing.It is such a pleasure for me to make a dough/batter and put in the oven and when the finished dish is a success,I am the happiest :)Every day when I am set to make a snack/light dinner I always find all excuses to bake something and only then I think about any other dish.I am not a big fan of iced cakes or rich pastries and neither my family.so the kind of bakes we prefer are something that we can straight of the oven,warm and comforting.I always like bake simple coffee cakes,flaky scones,simple cookies and not to forget pizzas and dinner rolls.Since many months I had been eying on the book baking from my home to yours-Dorie Greenspan and I recently purchased it,along with that book I also gifted myself with another awesome book Baking with Julia,it is such a pleasure to flip through the pages of these two books and deciding on the recipe,though most of the pastries and cakes contain eggs there are so many egg less bread recipes.I am yet to go through completely.I adapted this cheddar scone recipe from two recipes..I made the dough using my previous scone  recipe and the idea of adding cheddar cheese came from another scone recipe -apple cheddar scones in the book.As we do not like cheese in sweet dishes,I altered and made this scone-egg less cheddar scones.I have used mixed Italian herbs and chilli flakes for spicing and reduced the amount of cheese also.I used 1/2 cup curd instead of one egg mentioned in the recipe.These scones were a spot on,full of flavor,awesome texture and cheddar in every bite.I loved the way the dough turned out and how spongy and well raised my scones were,if you love your savory bakes,here is a perfect one for you to go with coffee :)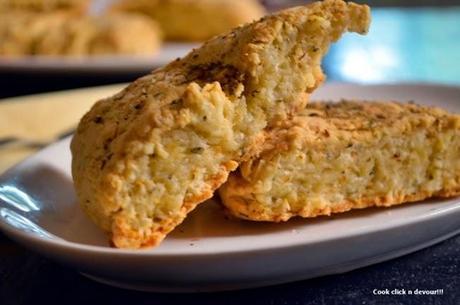 Here are some simple home bakes you might love
Egg less orange coffee cake
Egg less dates cake
Eggless cookies
Homemade pizza,grilled pizza with wheat base
Potato dinner rolls
Onion-herb focaccia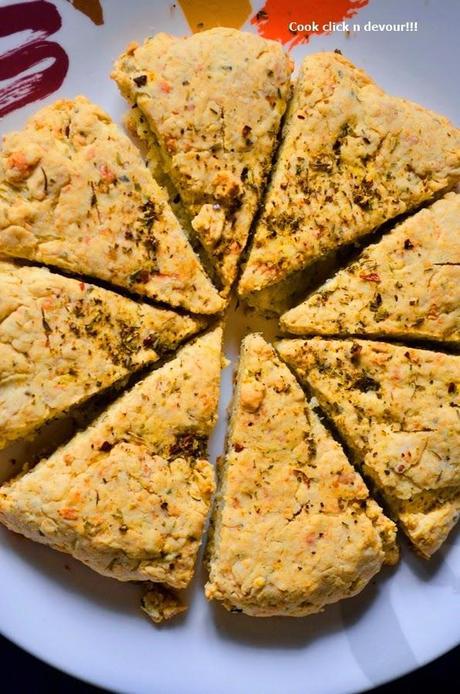 Egg less cheddar scones recipe
Star ingredients:Cheddar cheese
Time:15 minute+20 minutes
Yield:8 scones
Ingredients:
200 grams all purpose flour/maida
100 grams unsalted butter chilled
1/2 cup grated cheddar cheese
1/2 teaspoon salt
1/4 teaspoon sugar
1 1/4 teaspoon mixed herbs
1 teaspoon chilli flakes/pepper powder
1/2 cup curd
2 teaspoons baking powder
Method:
1.In a large mixing bowl sift all purpose flour along with salt and baking powder.
2.Cut the chilled butter into small cubes and add to the flour mix. Mix the butter with flour using your finger tips.Continue till the mixture resembles bread crumbs.
3.Add grated cheese,herbs,salt,sugar and chilli flakes.Mix well.
4.Now slowly add the whisked curd and bring the dough together.The dough wil be very soft.
5.Preheat oven to 200C.Grease and dust a baking sheet/pizza plate.Spread the dough into a thick circle slowly with your hands.Apply oil to the hands for spreading easily.
6.Score the dough into 8 equal portions.Bake in the preheated oven for 20-22 minutes,the crust will be light brown.
7.Serve warm after allowing to rest for 5 minutes.
Notes:
1.Instead of curd milk+vinegar mixture
2.Increase the amount of cheese by another 1/4 cup
3.Do not over bake,light brown color on the top is correct indication.