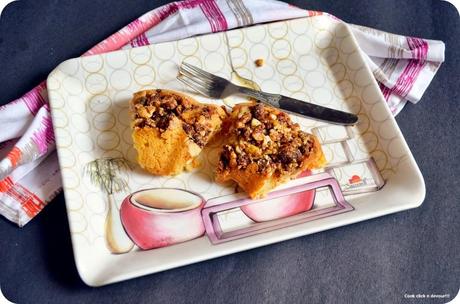 Ahh yet another carrot cake,are you sighing seeing the recipe title,sigh not,this carrot cake is indeed special,in fact a very special one that you could very well make for a party. The highlight of this carrot cake is that it has an amazing chocolate-nuts topping. But before getting into details,let me tell a silly mistake I made,an intentional one :P. You see I am obsessed with my bundt pan,I mean its not my fault though,every time I bake a cake in this pan,it comes out so clean and beautiful and I love my pan even more :), with that said,even though I knew the cake batter I prepared for this cake was very less for my bundt pan,I went ahead and baked thinking some miracle would happen (phew),but it did not.Though the cake was very very soft and tasty,it lacked height with which it would have been a real visual treat. Never mind,the taste and texture of this cake was so good that no one even bothered to mind the height and for the first time the whole cake was gone when it was still warm :) I was all set to prepare this carrot cake using my regular recipe for our snacks,then I suddenly wanted to try an upside down cake and thought of doing this simple choco nut topping.Nutella,my savior helped me here too and I was able to put this topping together in less than 5 minutes.This is one of those simple bakes where you can preheat the oven,whip the batter and your oven is by then ready to bake your cake :) Try this simple yet elegant cake to make your kids happy with chocolate and get the satisfaction for making a healthy snack for them with carrots and nuts :)
Eggless carrot cake recipe
Star ingredients: Carrots,nutella
Time:45 minutes
Yield: 1 7" cake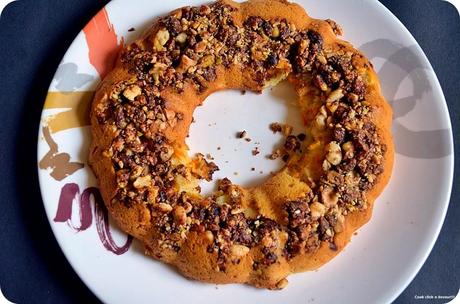 Ingredients:
1 cup all purpose flour
1/3 cup grated carrot
1/2 cup caster or granulated sugar
1/4 cup oil
3/4 cup curd
2 tablespoons milk
1 teaspoon baking powder
1/8 teaspoon salt
1 vanilla bean scraped
For topping:
2 tablespoons nutella
1/2 cup packed chopped mixed nuts
Instructions:
1.Preheat oven to 170C.Peel,grate and measure the carrots.Coarsely grind chop the nuts and mix with nutella,keep aside.
2.In a mixing bowl,add sugar and oil.Mix well till the sugar is dissolved.Add curd and mix well in one direction.
3. Add scraped vanilla and mix well.
4.In another bowl sift flour,baking powder and salt.
5.Add the dry ingredients to the wet mixture along with milk.Start and end with flour mixture.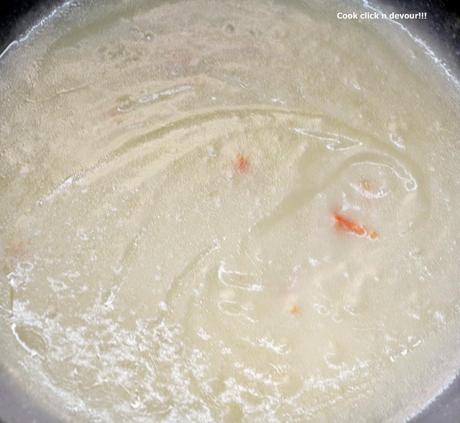 6.Gently fold the grated carrots.
7.Now grease and dust or line a 7" tin with butter paper.Spread the chocolate nuts mixture in the base evenly.Now pour the cake batter and tap.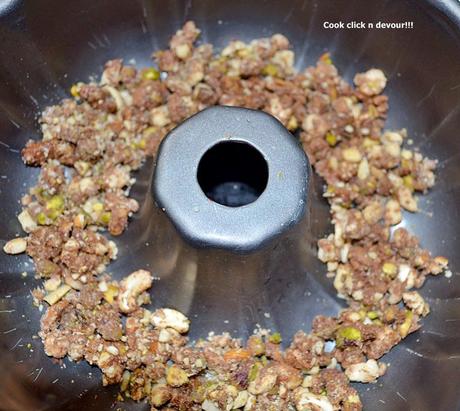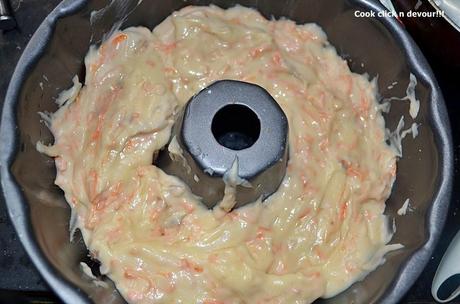 8.Bake for 35-40 minutes in the preheated oven.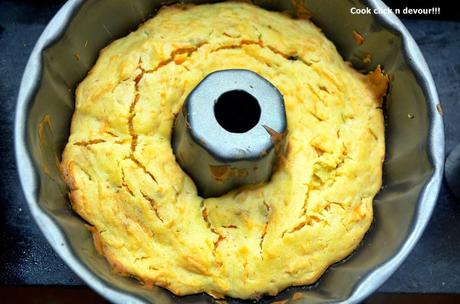 9.Allow to cool for 10 minutes before slicing.
Notes:
1.As I said before use a 61/2" or 7" tin for this cake.I used a 9" pan and ended up with a short cake.
2.You could also melt some dark chocolate and mix in the nuts instead of nutella.
3.I used toasted almonds,pistachios.You can also use walnuts.
4.You can try this cake with beets too instead of carrots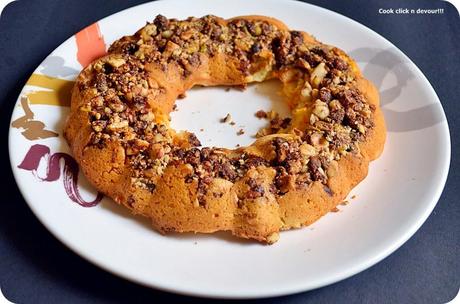 .