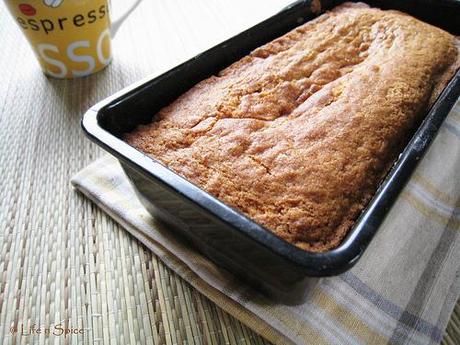 This bread is a favourite at home and I make it everytime there are some overripe bananas. My recipe calls for egg in it. But this time was a little different. We have not been buying eggs thanks to this. I looked around and found a eggless recipe and the result has left me totally satisfied.

The bread tasted great with a spongy texture. I will never have to use eggs in banana bread again!! The best past was it was so easy to put together. Adding a little more sugar, this bread can also be baked as a cake. The aroma of banana in it, makes one remember the Mangalore Buns:) Now, that's a recipe for another post.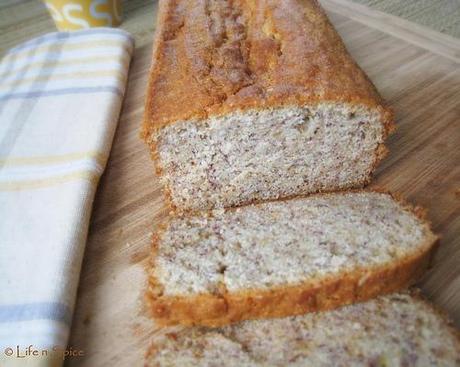 Eggless Banana bread recipe adapted from here

Ingredients:
2 cups all-purpose flour
1/3 cup butter softened
2/3 cup sugar
1 teaspoons baking powder
1/2 teaspoon baking soda
A pinch of salt
3 large ripe bananas
Recipe:
1. Mash the bananas and keep aside. Preheat the oven to 350 degrees F (175 degrees C)
2. Mix together butter and sugar in a bowl (I used a mixer)
3. In another bowl combine flour, baking soda, baking powder and salt
4. Add this to the butter-sugar mixture and combine
5. Add the mashed banana to this and beat together
6. Pour into a greased loaf pan and bake for 40-45 mins
7. Cool on a rack. Remove bread from pan and slice to serve.
Yields: 1 loaf of bread
Preparation time: 15 mins
Baking time: 45 mins
Don't miss a post. Subscribe to Life n Spice by email!