I have been thinking about an apple for a while now.I have seen in many recipes,apple puree is used as egg substitute and now the point that using apples itself would make the cake super soft and I was all hooked to try :). I followed this recipe with many changes and just loved the way it turned out.The whole cake got over within minutes :)It was so soft,moist and flavorful with subtle apple flavor,and those plump raisins were a sure treat.I highly recommend this cake for all those egg less cake lovers there :)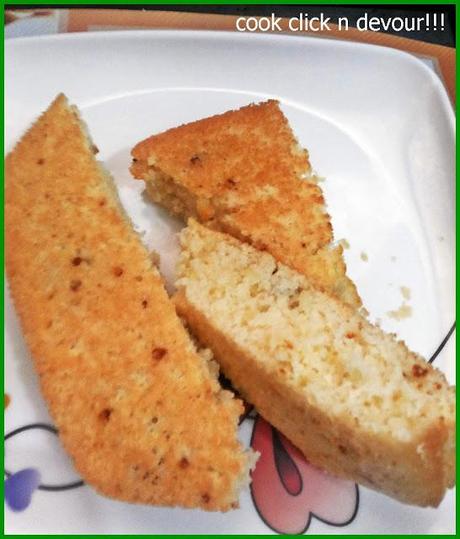 Egg less apple raisins cake
Star ingredient:apples
Time:10+25 minutes
Yield:8 large pieces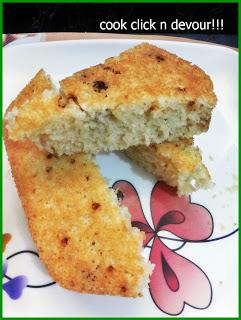 Ingredients:
1 cup all purpose flour
1  teaspoon baking powder
1/8 cup sugar
1/8 cup butter, melted
1 apple,peeled and grated
1/4 cup milk
1/2 teaspoon salt
2 tablespoons sweetened condensed milk
Handful of raisins
2 tablespoons sour cream
Method:
1.Add melted butter,condensed milk,milk and sugar to a bowl.Whisk till it turns creamy and well incorporated.
2.To the same bowl sift all purpose flour,salt and baking powder.Mix well.Start whisking until ribbon consistency.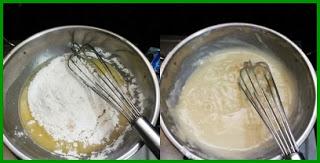 3.Add the grated apples and raisins and mix well.
4.Prepare a cake tin (grease and dust with flour) and pour the batter.Tap all the sides gently to level the batter.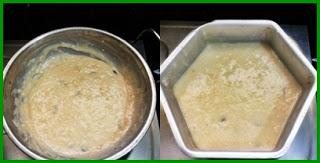 5.Preheat oven at 180C and bake for 20-25 minutes.Cool in a wire rack,cut and serve.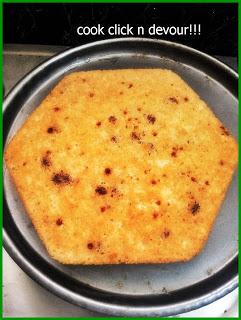 Notes:
1.I have substituted condensed milk in place of sour cream,which the source recipe called for.
2.You can even add dried blueberry,cranberry along with raisins for a tarty taste.
3.Top with assorted nuts if preffered
4.I like to serve such fruit cakes without any adornment,if needed you can serve it along with a simple caramel syrup or fruit sauce or dust the cake with icing sugar.