<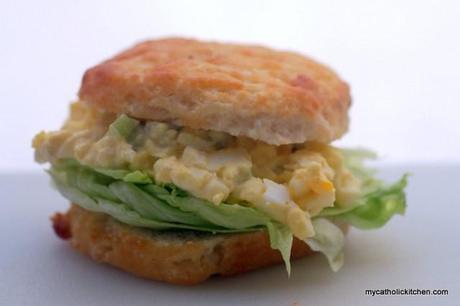 I love egg salad. It is pretty easy to make to. It is also very versatile.
Did I mention I am doing Weight Watchers? It has only been two weeks and it appears I have lost almost 6 pounds. My husband on the other hand has lost almost 15. How did that happen? Anyway this recipe I modified to work with Weight Watchers.  The biscuit is the only thing that I wouldnt use for my sandwich. Monkey Girl wanted the biscuit instead of the Sandwich thins I normally use.  I am really digging on Greek Yogurt. It is really creamy and very good for you. I bought a big tub of it and I am planning ways to incorporate it into my cooking.
I could just spoon this into my mouth without any bread at all. It has a tang to it that mayonnaise does not have.  So the next time you are reaching for the mayo to make your egg salad, why not try Greek Yogurt?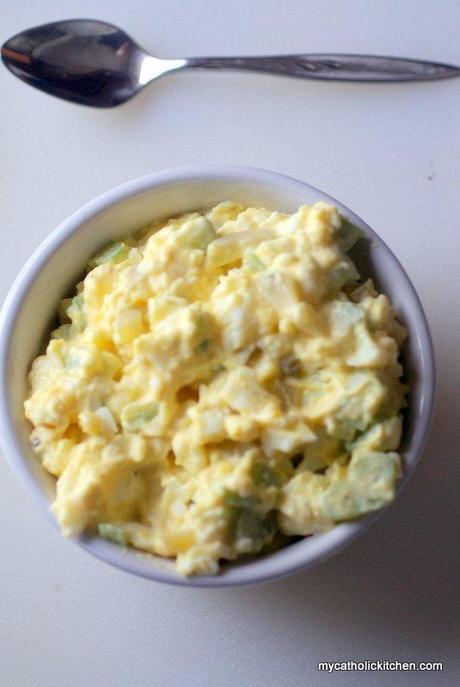 Print Egg Salad
Ingredients
6 eggs
4 tablespoons plain greek yogurt
1 teaspoon season salt
1/2 teaspoon pepper
1 rib celery chopped
1 tablespoon sweet relish
1 tablespoon grated onion
Instructions
Put the 6 eggs in a medium sauce pan. Add water to cover about 1/2 inch. Bring to a gentile boil. Cut off stove and allow eggs to steep in water for 18 minutes. Drain water and add cold water to pot. Break up the shell of the eggs and peel them as so as they are cool enough to handle.
Put the eggs in a medium bowl, using a fork mash them. Add yogurt, season salt. pepper celery, relish and onion.
Taste and adjust seasonings, adding pepper and season salt if necessary.
You can serve this on a biscuit, (like I did) or make it into a sandwich or on crackers. The ideas are endless with this versatile recipe.
Schema/Recipe SEO Data Markup by ZipList Recipe Plugin2.2http://www.mycatholickitchen.com/2014/02/egg-salad.html
Peace be with you,
Veronica