A piece of cake-everything around seems to brightened.Cakes have become such a synonym for celebration to us. Be it an anniversary,get together or an achievement we have learned to celebrate it with a cake.And what could be more good,if the cake is home made and caters every need of yours,that's what exactly happened to me :). This cake is to celebrate a small yet very important mile stone for me in this blog front.This is my 250th post,I some how missed 200th one,so wanted to celebrate this :). Here I would like to thank all my readers,friends and each and every one who never fa to encourage me with this venture. Now coming to this cake,this cake satisfied each and every need of mine I should say.An egg less cake with perfect texture,taste,soft yet firm enough to slice and most important-it is pretty!!. Yes I was really amazed by the look of the cake once it came out.I recently purchased a bundt cake pan online,I baked this cake in that pan and I am pretty happy with the results.I did not grease or dust the pan,just washed it thoroughly before use,and cake came out of the pan like a breeze.All together a very happy baking experience with this cake.When I bought a pack of strawberry I wanted to bake a cake but not the usual cheese cake.So I searched searched and searched but did not find an egg less recipe to hook me up.But once I saw this recipe,I was all set to bake,as mentioned in the recipe itself I substituted strawberries instead of blueberries and my cake won a thumbs up from everyone who tasted.Though I did not have tofu as mentioned in the recipe,I used sweetened condensed milk instead of that and proceeded with the recipe.Here you go :)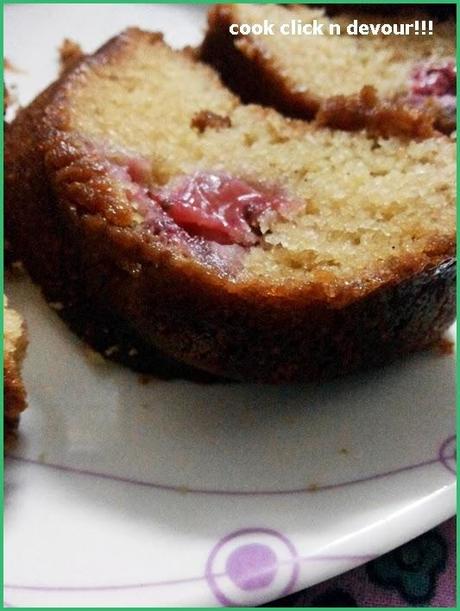 Egg less strawberry cake recipe
Star ingredients:Fresh strawberries
Time:45 minutes
Yield:1 bundt cake or 9 inch round cake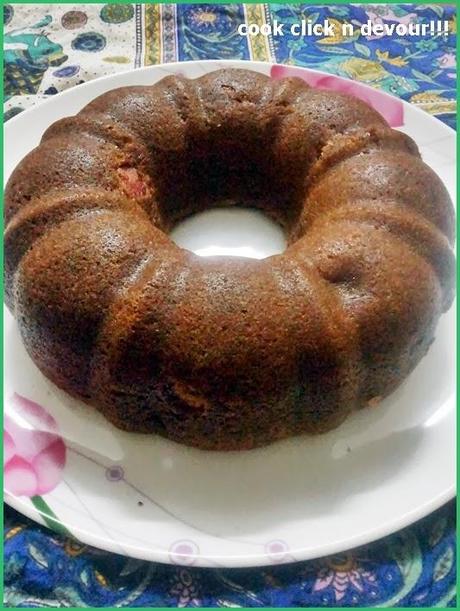 Ingredients:
2 1/2 cups all purpose flour
3/4 cup sugar
12-15 fresh strawberries hulled and chopped
1/2 cup sweetened condensed milk
1/2 cup butter(soft,room temperature)
1/2 cup curd
1/4 cup milk
2 teaspoons baking powder
1 teaspoon baking soda
1 vanilla bean scrapped
1/4 teaspoon salt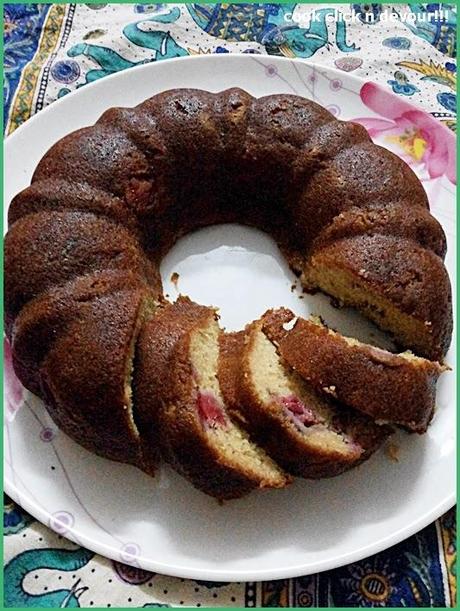 Method:
1.Preheat oven to 180C.Cream in sugar and butter until well mixed and light.Next add condensed milk,curd and mix well.Add scrapped vanilla and mix well.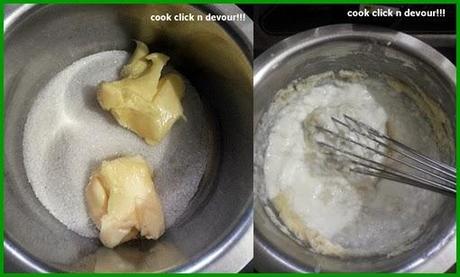 2.Sift all the dry ingredients together.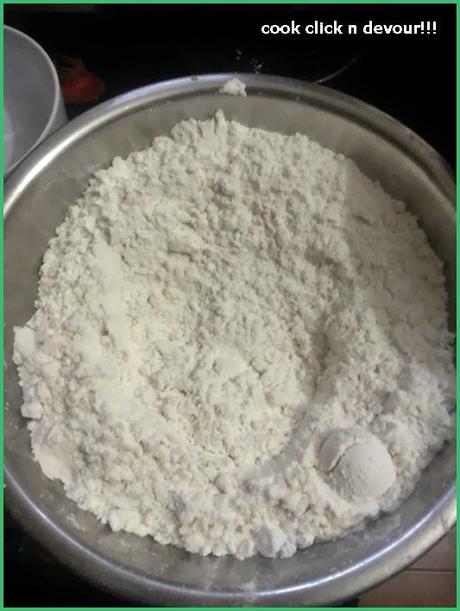 3.Now alternate dry ingredients and milk to the wet mixture and whisk.The batter will be very light and fluffy.Now add the chopped strawberries and mix once.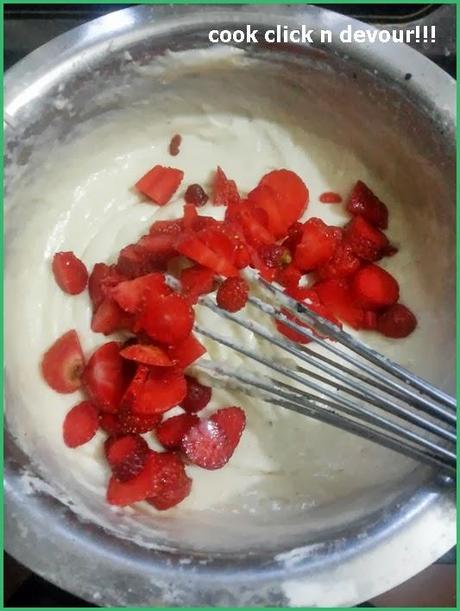 4.Pour the batter in a bundt pan and tap the sides to release air bubbles.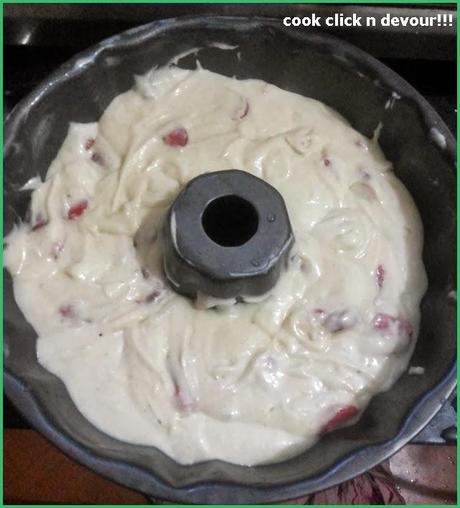 5.Bake for 45-60 minutes until done.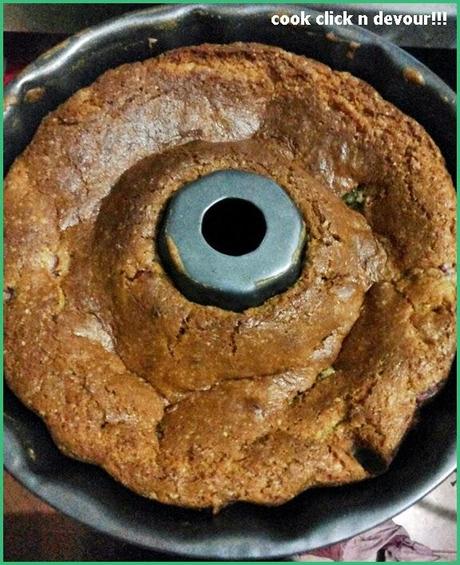 6.Wait for at least 15 minutes before slicing.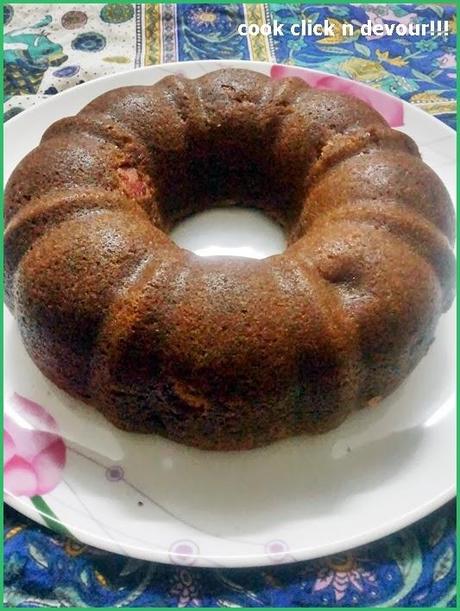 7.Serve warm with any sauce/as it is.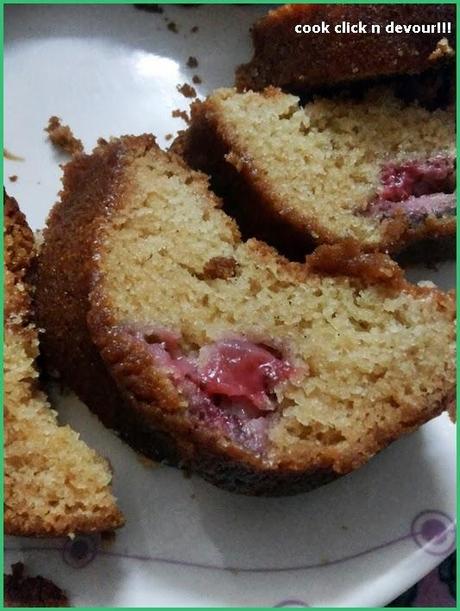 Notes
1.I have reduced the amount of sugar as I have condensed milk.
2.I guess even pureed paneer will work well here.
3.This will taste great with caramel sauce.