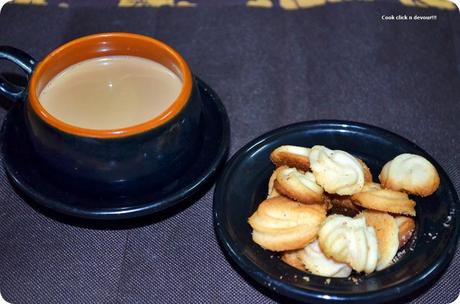 These cute rose flavored cookies are a specialty of our local bakery.These are humble egg less butter cookies piped out as small roses.This bakery show cases some of the best egg less cookies and cakes and the people over there are so generous to tell the recipes too :). Recently when I visited I bought this cookie,one excellent cake and recipe for both. I tried these cookies and they turned out just perfect expect those imperfect roses :).I need a lot of practice in piping I know :). In this cookie the dough is flavored with saffron and rose essence (I used rose milk syrup) and piped out instead of shaping.These cookies just melt in mouth and we finished the whole batch in go :)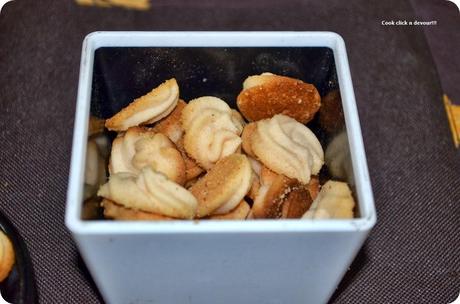 Egg less rose cookies recipes
Star ingredients:Rose milk essence and butter
Time:15 minutes+20 minutes
Yield:30-40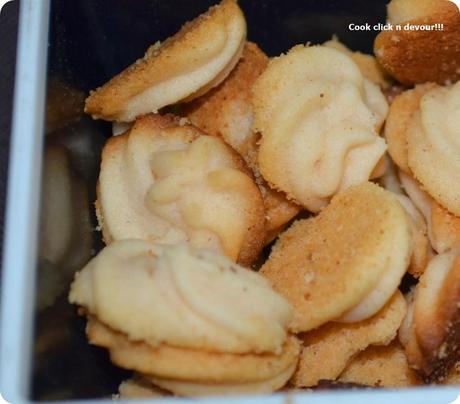 Ingredients:
1 1 /2 cup all purpose flour
1/2 teaspoon baking powder
1/4 teaspoon saffron soaked in 3 tablespoons warm milk
2 tablespoons rose milk essence
125 grams butter softened
3/4 cup castor sugar
1/4 salt(If using unsalted butter)
Method:
1.Cream in butter and sugar until light and well incorporated.Sift all purpose flour flour,baking powder and salt.
2.Add the saffron soaked milk and rose essence.Mix well.
3.Add the Flour mixture and mix well.
4.Transfer the dough to a piping bag and fit with rose tip.
5.Preheat oven to 170C.In a greased baking sheet pipe small rose like cookies.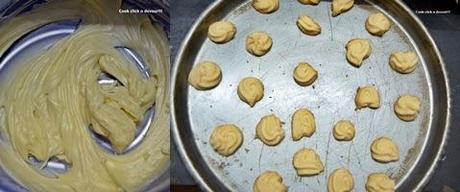 6.Bake for 15-20 minutes (till the top is golden )
7.Allow to cool and store airtight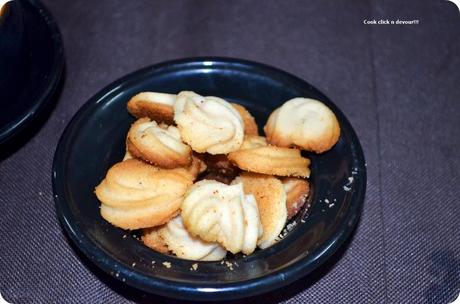 Notes:
1.You can use any flavor instead of rose,like cardamom or vanilla
2.You can even scoop the batter in teaspoons instead of piping them