I wish all my dear readers a very happy and prosperous new year 2014 :) .Let us hope and pray for good health,joy and prosperity in this new year :).


2013 is very dear to me in many ways and the start of this blog is the best among them.I started this blog all of a sudden on one fine afternoon on April 2013 and never did I think I will be blogging with so much enthusiasm and patience.I love each and every bit of all the parts like cooking,taking photography and drafting a post for this blog.Here I wish to thank each and every reader of mine and I sincerely hope to yearn support in the future.Now how about starting a new year with a delicious cake that screams orange in every bite.I have already posted a recipe for egg less orange cake here and that is one of my most viewed recipes.But I just cannot let an orange season pass by with out baking our favorite cake at least once.So this time I chose a different recipe for orange cake,using condensed milk.I was very happy with the cake,it turned out be very soft yet firm enough to cut into clean slices and color was very pleasing too.Most importantly this cake just so very orangy (err I made that word :) ) with a very bold orange flavor.I strongly recommend you all to try this at least once.I served this with some caramel sauce and it was just perfect.Next time I am planning to make an orange or chocolate butter cream icing for this cake.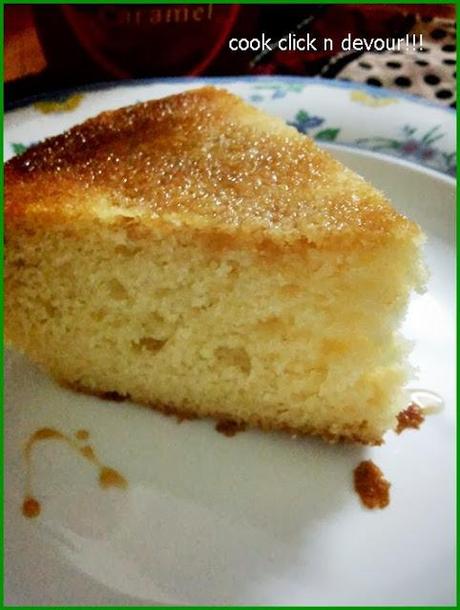 Egg less orange cake recipe
Star ingredients:Fresh orange juice
Time:15 minutes+45 minutes
Yield:1 8"round cake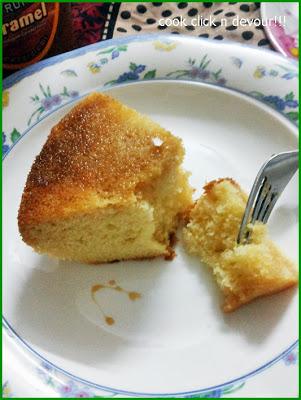 Ingredients:
1 1/2 cup all purpose flour
100 grams butter softened
1 tin(400 grams) sweetened condensed milk
3 tablespoons thick yougurt
1/2 cup freshly squeezed orange juice
1/4 cup milk
2 teaspoons orange zest
2 teaspoons baking powder
1 teaspoon baking soda
1/4 teaspoon salt

Method:
1.Prepare a 8 inch round baking dish by greasing and lining with a butter paper.
2.Beat the butter and condensed milk with a hand whisk until light and creamy.Preheat oven at 150C
3.Next add the yougurt,orange juice and milk one by one after mixing well.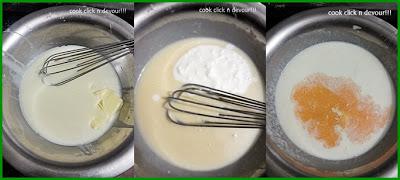 4.Sieve all purpose flour along with baking powder,soda and salt twice.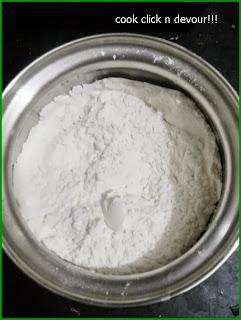 5.Add the dry ingredients gradually in stages and to the wet ingredients and mix well.Mix well till the batter falls in folds.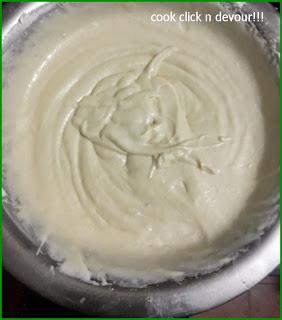 6.Pour the batter to the prepared tin and tap to release the air bubbles.Bake in the preheated oven for 40-45 minutes.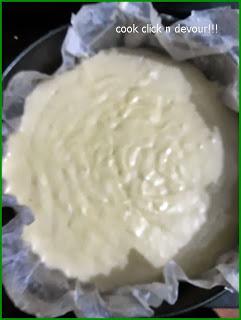 7.Remove from oven when a tester comes out clean and allow to cool at room temperature.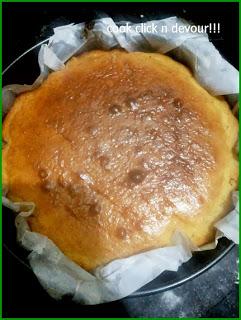 8.Cut and serve along with caramel sauce/chocolate sauce/plain as coffee cake.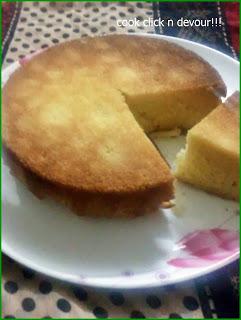 Notes:
1.This cake soaks well.You can cut into two and soak with some fresh fruits and make a layered cake too.
2.There is no need for sugar in this cake.It is mildly sweet,so top with any sauce if you prefer it sweet.