We have a small but very hygienic bakery in our neighborhood which serves some really delectable goodies.I absolutely love their black forest cake,coconut jam cake,masla bun and an array of cookies.Out of so many cookies,I just love their butter cookies,the one that melts in mouth and very crispy,I also like the pale color of those cookies.I have been thinking for a while to bake these cookies.I did not want to use whole wheat flour as that will the change the color of the cookies.I also used a good amount of fruits and nuts as my daughter likes them very much.I baked around 30 cookies and all gone with in a day :) Crispy,buttery and with full of nuts and fruits,munching on these cookies is a pure bliss,I say so,try this for yourself to trust me :)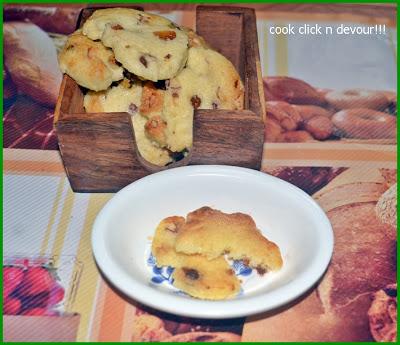 Egg less fruit and nut cookies recipe
Star ingredients:Butter and nuts
Time:30 minutes
Yield:30 small cookies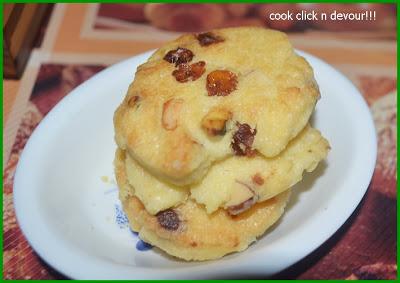 Ingredients:
100 gram butter softened
1 cup all purpose flour/maida
1/4 cup sugar
1/8 cup milk
1/8 cup mixed nuts(almonds,cashews,pistachios)
1/8 cup raisins
1 teaspoon chocolate chips
A pinch of salt
Method:
1.Break the nuts into small pieces and dry roast,taking care not to burn.Mix with raisins and keep aside.
2.Mix sugar ,butter an flour very well till incorporated.Add salt and mixed nuts.Combine well.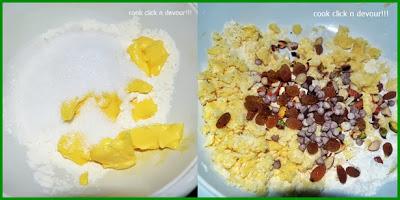 3.Add the milk and knead to make soft dough.The dough will be very soft,crumbly and sticky.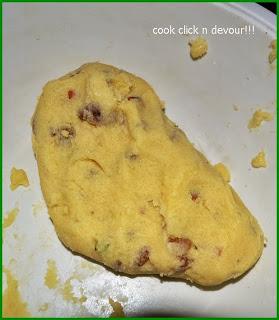 4.Place the dough on a floured surface a make a log.Refrigerate for 1 hour.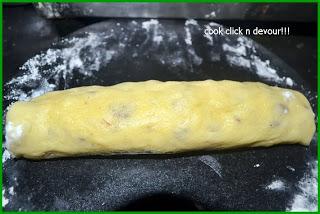 5.Preheat oven at 170C.Cut out cookies of desired thickness(I made them comparatively thin for extra crispiness).
6.Arrange the cut dough in a baking sheet and bake for 10-12 minutes.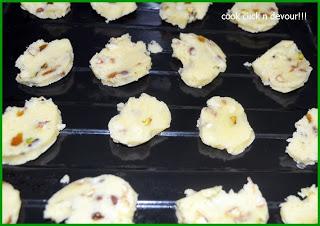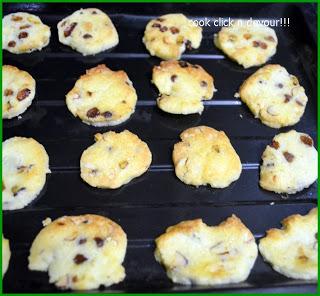 7.Cool thoroughly and store.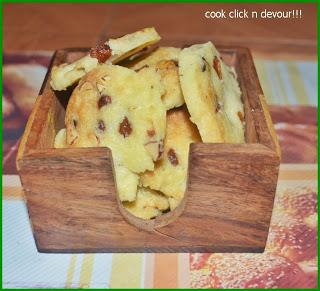 Notes:
1.Do not over bake these cookies,they cook even after removing from oven and become very crisp.
2.You can try substituting whole wheat flour instead of maida,color and texture will be different though.
3.You can add fruits like dried blueberries etc to this.
4.Flavoring like vanilla can be added.