Looking for a condo/townhome in a suburban setting with a high walk score? Be sure to check out the area around the Edina Promenade, which connects the paths around Centennial Lakes Park recreation and shopping areas with The Galleria/Southdale shopping district.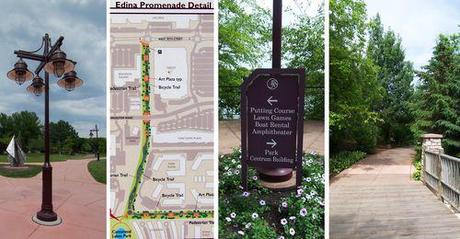 Divided walking/biking paths pass behind condos and businesses between France and York Avenues, and feature original sculptures and benches to sit and relax along the way. You might miss this wonderful pedestrian walkway tucked away from busy street traffic if you didn't know it was there.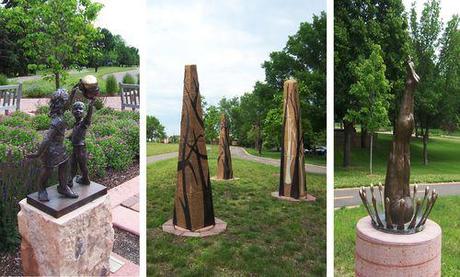 So many times suburban housing may be near shopping and other services, but they aren't very pedestrian friendly. This promenade was started in 2008 by the city of Edina. Combined with Centennial Lakes Park, the promenade makes this an extremely walkable neighborhood.
Although not all on the promenade itself, the library, county service center, YMCA, grocery stores, drug store/pharmacies, medical services, shopping and entertainment are all nearby... making this a wonderful setting for those wanting everything they need right out their door. No wonder the nation's first senior co-op is located in this area. As all ages discovered the advantages of living in a walkable neighborhood other condo/townhouse developments have blossomed over the years, with 34 units currently for sale built from 1972 to 2011, and ranging in price from $62,00 to $1,495,000!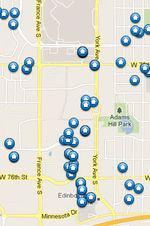 Edina condos and townhomes for sale in this area near the Edina Promenade and Centennial Lakes Park include high-rise condos built in the 1970s in the $50,000-$150,000 price range... low-rise condos built in the late 1980s and 1990s in the $150,000-$350,000 price range... townhomes built in the 1990s in the $400,000-$600,000 price range... and new high-rise condos built 2008+ in the $600,000-$2M price range.
Sharlene Hensrud, RE/MAX Results - Email - Edina Condo Realtor