Indigenous groups say they weren't consulted as required by constitution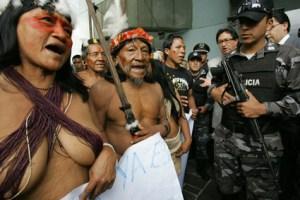 Huaorani Indigenous protest in Quito, Oct. 31, 2007, against oil extraction in their lands located in the country's Amazon.
by Steven Nelson
Ecuadorian officials met with the leaders of Chinese oil companies in Beijing this week to discuss plans to auction a large section of the Amazon Rainforest for oil exploration.
Indigenous Indians and environmentalists are furious about the proposal. More than 11,000 square miles are up for bidding, The Guardian reports, and previous meetings to discuss the sale were protested in Paris, Houston, and the Ecuadorian capital Quito.
"Ecuador is willing to establish a relationship of mutual benefit—a win-win relationship," Ecuador's ambassador to China reportedly said at the Beijing meeting. Chinese companies are also reportedly investing in a multi-billion-dollar Ecuadorian oil refinery project.
"We're looking for global investors, not just investors from China," Ecuador's secretary of hydrocarbons, Andrés Donoso Fabara, told The Guardian. "But of course Chinese companies are really aggressive. In a bidding process, they might present the winning bids."
Fabara dismissed opponents of the plan, saying: "These guys with a political agenda, they are not thinking about development or about fighting against poverty. … We are entitled by law, if we wanted, to go in by force and do some activities even if they are against them."
Ecuador's 2008 constitution made headlines for being the first in the world to recognize rights for the environment, namely that nature "has the right to exist, persist, maintain and regenerate its vital cycles, structure, functions and its processes in evolution," as quoted by The New York Times.
The U.S. State Department notes that Ecuador's constitution also guarantees indigenous people "the right to be consulted and participate in decisions about the exploitation of nonrenewable resources that are located in their lands and that could affect their culture or environment" and "in the case of environmental damage" entitles the indigenous people to "immediate corrective government action and full restitution from the responsible company."
Several indigenous groups claim that they have not been consulted about the plans and are encouraging companies not to enter bids.
In 2011 American oil company Chevron was ordered to pay $8.6 billion by a court in Ecuador for alleged pollution in the Amazon, Reuters reported. The fine was doubled after Chevron refused to issue a court-demanded apology to indigenous people within 15 day of the ruling, which the company has characterized as illegitimate. Ecuador's government is led by President Rafael Correa, an ally of late Venezuelan President Hugo Chavez.