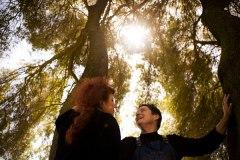 Filmmakers Beth Stephens and Annie Sprinkle.
by Russ McSpadden
Goodbye Gauley Mountain brings together the topics of sex, class, hillbillyism, queerness, capitalism and nature and will make you proud to be called a dirty environmentalist. This is, without compare, the sexiest nature documentary, and one of the most profound films to deal with the beauty and tragedy of the Appalachian Mountains in the time of King Coal. It'll make you fighting mad, then you'll laugh, then you'll get turned on. Hopefully you'll fall wildly in love and get out there and defend your Lover Earth with a lust befitting the world's most ancient and biodiversely kinky mountains.
Over the last several months I've interviewed Beth Stephens and Annie Sprinkle about their film, art and activism. The full interview will appear in the next Earth First! Journal but you'll find a sneak peak below as well.
Goodbye Gauley Mountain: An Ecosexual Love Story is currently in post production but there are several pre-screenings in the works including one on March 30th in San Fran. You can check here for event details and future showings: http://goodbyegauleymountain.org/screenings/
————————————————————————————————————————————————————————–
RM: And you two have actually spent time with the folks of the RAMPs campaign, the people who use civil disobedience, tree sits, sit ins and etc to confront MTR.
BS: Yes, and we even received a lesson in tree climbing. A person named Grumbles taught me how to tree climb. Grumbles is the Robert Redford of environmental activism. Tree sitting is like very sexy deep tree hugging. You really develop an intimate relationship with trees. I mean, people risking their bodies and lives to try to save the Earth is pretty f*cking sexy.
AS: Yeah, its like bondage for a cause. All those chains and harnesses and ropes, chaining yourself to an earth moving machine or strapping into a tree, that is really sexy. And you know we were at the March on Blair Mountain and were the drivers in the caravan of cars taking the RAMPS activists to shut down the Hobet mine in protest this summer. Its funny because, as a sex positive porn star I've fought to keep my top off, but now I'm fighting to keep mountain tops on.
RM: And you two actually married coal too?
BS: While we were in Spain we had a wedding to coal in the city of Gijon, in the northern state of Asturias. Our wedding was in a tent in a fair at a festival called Semana Negra. This wedding featured a lot of anarchist artists, poets and performers. In the end Annie and I were laying in a bed of coal, naked and the wedding performers surrounded us. They then placed pieces of coal dipped in blood on our bodies. Asturias, the coal mining region of Spain, reminded me a great deal of West Virginia. Our audience was composed of people from town and the front row was filled with old women who looked as if they completely disapproved of what we were doing during our two-hour wedding performance. I thought they were going to tar and feather us as we had heard many stories about how the Spanish government was afraid of the miners because the miners controlled the explosives (for mining) in the state—and were political radicals. But low and behold after our vows were made to help keep the coal in the Earth, we recessed to the outside of the tents, barely wrapped in our too small wedding sheets and the very stern looking ladies of the town joined us in singing traditional mining songs. It was wild, beautiful and really moving. Our sheets fell off and no one missed a beat. Viva Santa Barbara! Vivia Las Novias! Singing naked with all of these old miners' wives at a fair in Gijon was perhaps the most wild thing I've done in spite of my more seemingly wild escapades. The energy was orgasmic as it really seemed that anything could happen. And I think the Earth must have loved it too.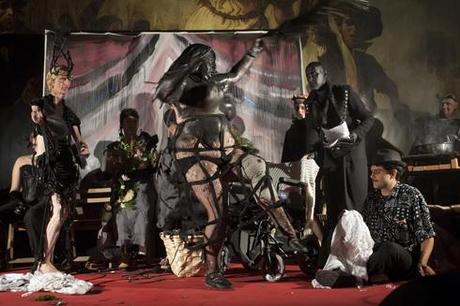 Black Wedding to the Coal, Gijon, Spain 2011 Photo by Irma Collin