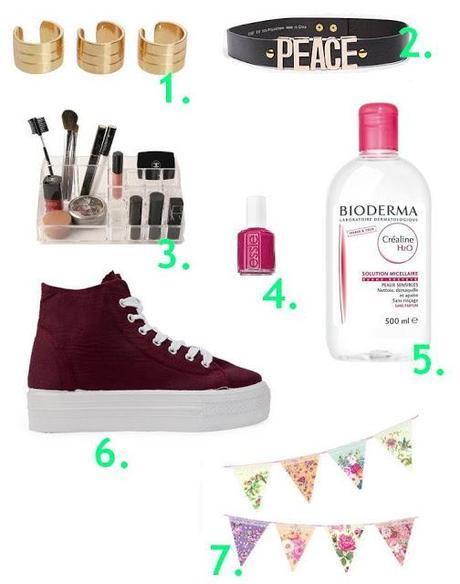 1. Rings // 2. Belt 
3. Organiser // 4. Nail Polish // 5. Bioderma
6. Shoes // 7. Bunting
I'm an extremely organised person, and when it comes to Christmas shopping I am pretty much done. 

Most of my best friends, family and boyfriend all have birthdays in October, November and December which means I'm pretty skint around this time. Because of that I start my Christmas shopping early, like May/June early.




But if you're a bit like me and like to buy presents that are a bit cheaper (so you can get more) then I advise having a look on the internet instead of the Highstreet, may I introduce my good friend Ebay. Most of you properly know you can get pretty much everything from Ebay, I mean everything. So above are my gift guide picks if your buying for a girlfriend, female friend or female family member. 

1. Rings:

3 adjustable rings, can be worn normally or as knuckle rings. At £5.99 these are a real bargain, these rings are in fashion and I can't see them going out of fashion for a while. Great stocking filler or present for a fashion concision friend.

2. Belt:

A more affordable dupe for the Moschino

 belt, I like this belt as it's cute and can be worn with a number of things. Also Peace is a nice message to have across your waist. It comes in at £19.99 and fast delivery. 

3. 

Organiser:

I love these organiser (£13.50 + £2.20p&p), very similar like the Muji ones. Perfect for storing Make up, Perfume or Pens. If you know someone who has loads of Make up and need something to store her most used products then this is ideal. 

4. Nail Polish:

Now this is the bargain of the century! Brand new Essie Nail Polish for only £1.75 (£0.65p&p), perfect stocking filler, when they open it they will thing you spend a fortune on them. Result. 

5. Bioderma:

This product is not available in the UK, but you can get it brand new from Ebay. I would possible give this to my mom or someone who love their beauty products. It's £12.90 (£2.75p&p) and you get 500ml of product.

6. Shoes:

These flatform trainers are so cute. The color is perfect for winter and bang on trend. I've not yet seen a pair in this color on the Highstreet. These shoes are young, cute and can be worn all year round. £9.99+£2.25p&p

7. Bunting:

Everyone loves a bit of bunting, England has gone bunting mad since the Queens Jubilee. This is a cute Sabby Chic/Alice in Wonderland/Cath Kitson take on the classic bunting. Perfect for any Bedroom or Living room. £6.50 + free postage 

What is on your wishlist this Christmas?