Changes.
2016 is the year of change, in more ways than one if you know what I mean.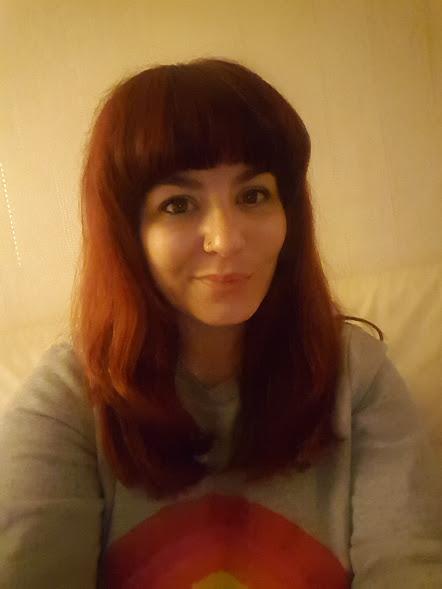 Me before the change
Midway through 2016 I wanted a change, I was getting bored of my hair. Having dyed red hair with a chunky fringe for two years was getting too much to uphold. I didn't mind touching up my roots every 6 weeks but straightening my fringe every morning was getting annoying. I'd rather stay in bed an extra 10 mins than straightening my fringe.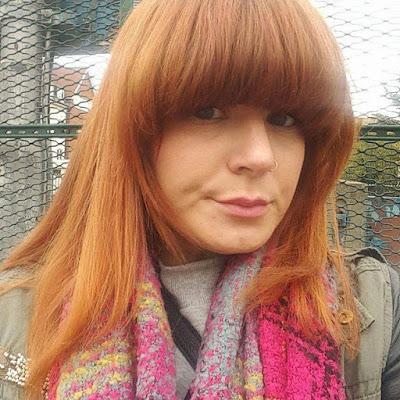 After the color remover
Naturally, I started looking for inspiration on Pinterest and an image of peach coloured hair kept popping up. I started to do some research on how to get peach hair. I already knew I would have to bleach my hair which I was ok with as my hair was healthy and well looked after. Youtube was my next stop, I wanted to watch some videos on turning red hair into blonde and to see how I could avoid my hair turning pink. I found that Guy Tang videos were the best for transforming hair colours, He really knows what he's talking about. My mom is a professional hairdresser and I consulted her on what I had planned for my hair. My mom has always done my hair, The two times I've visited a hairdresser they messed up my hair so much I vowed that I would never visit a hairdresser again. My mom knows what I want to do with my hair and executes it the way I want it.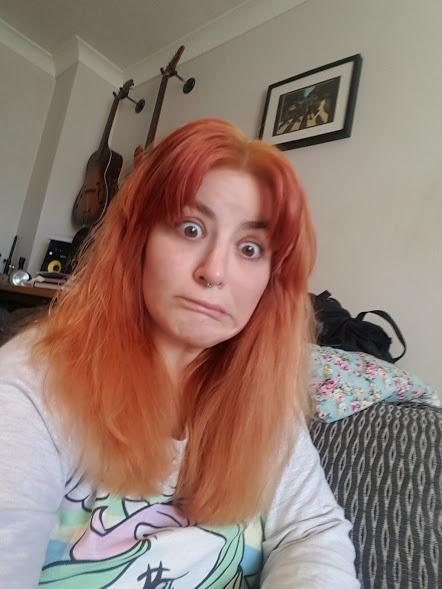 !st set of bleach
Sally's is possibly the best place to go for professional hair dyes and products, I headed there with my mom and we picked up some bleach, developer and some hair dye. Getting permanent peach hair dye is impossible and I didn't want to invest in semi-permanent dye as I'm not a fan of the upkeep. My mom advised me that we could mix colours to get a peach tone for my hair.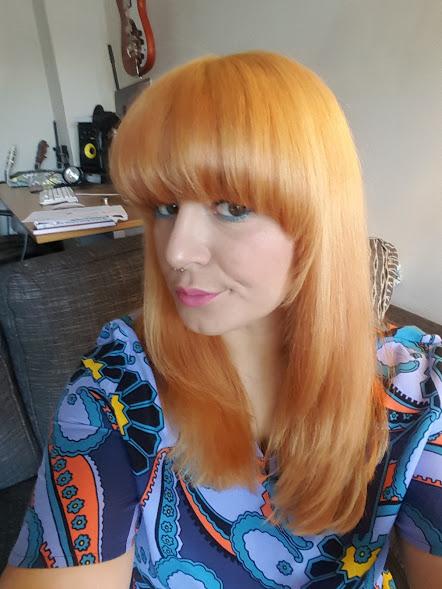 2nd lot of bleach
The first step for the transformation was to strip my red hair, I purchased two hair color remover from Superdrug. I was surprised that I only needed one box of hair color remover as I have a lot of hair, I left the color remover on for the advised time of 60 mins. After the time was up, I rinsed and blow dried my hair. The color remover didn't remove all the color but it did lighten my hair. My hair was a little frazzled after the color remover and I had a week before my mom was going to do my hair so I used two hair masks to try and save my hair from falling out.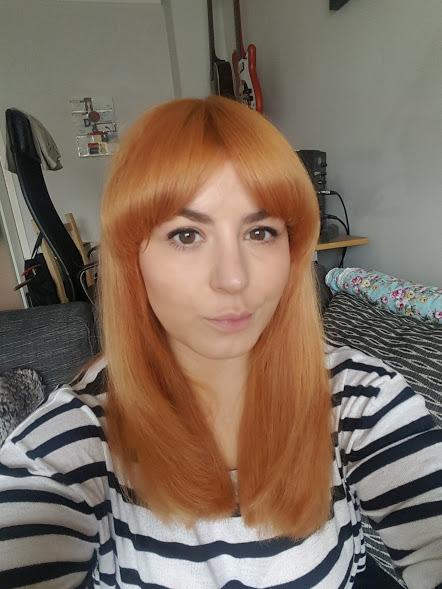 The completed look
The second step was to bleach my hair, bleach is always something that scares me. No one wants their hair to break off! As my mom is a professional and has bleached my hair before, I knew I was in safe hands. After we bleached my hair it turned a strange color of pink, not really what we wanted but we knew that we might have to do two sets of bleach on my hair. We didn't want to bleach my hair twice in one day so we did the second bleach dye the day after. The second time was better, the pink color had gone but my hair color was more yellow than white. We then mixed two colours to create a peach hue for my hair. It worked really well and I was very happy with how it turned out.
These are the products I used to create my peach hair:
Superdrug Colour Rewind Hair Colour Remove Clear
Blue Powder Bleach
Rusk Deepshine Colour - Medium Blonde
BLEACH Rose Shampoo
What's your first stop for inspiration when you want to change your hair?
Marianna x