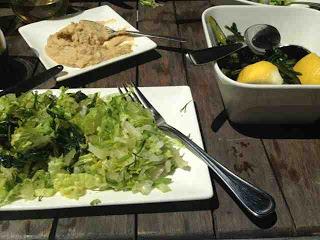 I happen to love Greek food so when my cousin was performing in a concert in Stamford, Connecticut, I suggested that my husband and I meet my parents at
EOS
 on Summer Street downtown beforehand.  In fact, I had a business meeting in Stamford yesterday and was having lunch with a friend afterward so I quickly suggested we dine there as well.  EOS sits on a main road but it was 80 degrees, so while it has a pretty interior, with weather like that I'll sit outside nearly anywhere!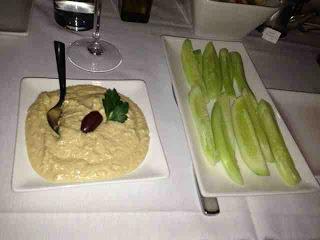 EOS has something for everyone, for vegans and non-vegans alike, however, I cannot resist ordering their hummus.  It is so incredibly fresh and light it's almost a sin to share, and though they offer both whole wheat and regular pita, they willingly serve it with sliced cukes as well if you prefer to go gluten-free.
The vegetable sides and potatoes are all cooked perfectly - not too much oil, and definitely not over-salted...I hate when people over salt vegetables and think they are adding flavor!  Yesterday my friend and I shared the dandelion greens ~ a nice alternative to spinach or kale ~ and a romaine salad with dill and sliced scallions in a light, lemon vinaigrette.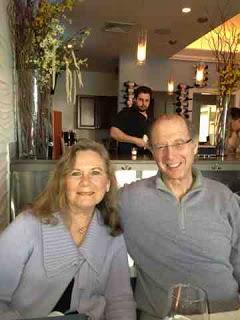 my cute parents :-)
Even with the pita, it was a light, protein-filled, green meal and really, what's better on a gorgeous, nearly summer day?  We each had a glass of wine too as they boast a variety of Greek wines which, despite some skepticism, are actually quite good.  I don't normally have wine with lunch but trust me, I earned it this week, and coupled with fun conversation, it all made for a terrific lunch!
There are lots of great places to dine in Stamford so I'll be sure to share some more.  If you have a place you'd like me to write up, just let me know!