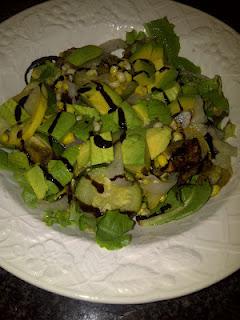 Green squash, green avocado, green lettuces...yellow corn, yellow squash...white-fleshed eggplant, white onion...
How do you make a tasty, pretty meal with such a simple color palate or vegetables?
I'll tell you!
You will need:
1 ear of corn, kernels sliced off
1 large white or yellow onion, diced
2 green squash/zucchini, sliced in rounds
2 yellow squash, sliced in rounds
1 medium size eggplant, peeled and cut into bite-size peices
1 avocado
3 large leaves of basil
2 TBSP lemon infused olive oil (or add the juice of one lemon in addition to the oil)
Salt to taste (I used Pink Hamalayan)
Balsamic Glaze (it's a reduction of the vinegar and can be found in specialty markets)
2 cups mixed field greens, chopped
Preheat your oven to roast at 400 degrees.
Place the corn, onion, all squash and eggplant in a roasting pan.  Drizzle with lemon infused olive oil and salt and roast under soft and tender, 30-40 minutes depending on your preference.  After about 15 minutes, add the leaves of basil into the roasting pan, and mix into the vegetables so as to help the flavor but not burn.
Once finished, remove from the oven and set aside.
Dice 1 avocado and set aside.
Into a large serving bowl lay a bed of field greens.  Onto that place the cooked vegetables.  Topped with the diced avocado and drizzle the balsamic glaze in a circular design.
Serve!
For another summer recipe with a different color palate, try this recipe I got from a friend for tomato carrot soup.  It's got a nice kick to it from the curry, and though it can be served hot, I prefer it chilled.
You will need: 
2 tbsp. vegan butter or olive oil 1 yellow onion, peeled and chopped ½ lb. carrots, peeled and chopped 1 tsp. curry powder 7 large ripe plum tomatoes 3 ½ cups broth 5 tbsp. slivered basil leaves Salt and pepper to taste
Heat olive oil in soup pot.  Add onion and cook 5 minutes.  Add carrots and curry powder.  Cover and cook 20 minutes more, until vegetables are tender.
Fill a saucepan with water and bring to a boil.  Dip tomatoes, one at a time, into the water  for 30 seconds.  Peel off skin and chop coarsely.
Add chopped tomatoes and broth to soup pot with vegetables.  Bring to a boil, lower heat and simmer for 20 minutes.  Add 2 Tbsp. chopped basil, salt and pepper.  Simmer 1 minute.
Transfer soup to a blender or use an immersion blender and puree until smooth.  Stir in remaining basil and serve!