When Hungry Husband (HH) opens the fridge door, he either knows what he wants (bread + cheese + mustard = oddest combination ever) or he lets whatever is in the fridge inspire him (to make one of three things - stir fry, pasta or salmon). Generally, I do the grocery shopping on week nights when HH has a late meeting or an engagement. Although it ends up being a hectic night, grabbing produce in between the gym and Gossip Girl/Revenge or whatever show is on that night, it means we avoid the insanity that weekend grocery shopping brings. And HH is generally pleased to delegate this task to me (and what I choose to put in our fridge). Of course, there are times when he'll come across a bag of
Broccolini
, stare at it blankly and ask,  
"why do we have mini broccoli?"
Good question right? Well, I respond with,
"Because I thought they were cute. Don't you agree?"
He smiles. Nods. But really, in his head, he is thinking,
"Who buys vegetables because they are cute?"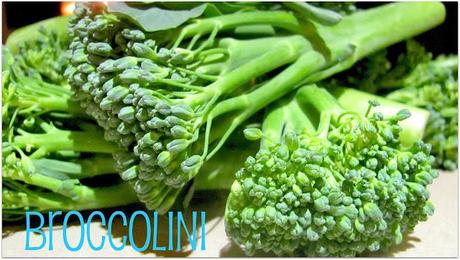 Clearly, I do. I love mini-everything. Mini carrot. Mini zucchini. Mini broccoli. Mini corn. Mini Mouse. Food looks so much more enjoyable when it comes in baby sizes. It makes me feel like a cartoon character. I have issues. I know. Anyway, I did have a of broccolini waiting to be cooked. My goal was to try a new combination of flavours and elevate the taste status of vegetables. After all, most people (including HH) prefer to have a burger over a plate broccolini... but that was about to change.... maybe.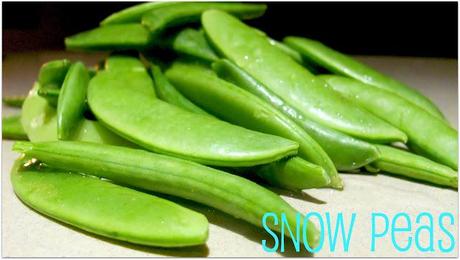 Voila - Broccolini and Snow Peas in Sesame Dressing - courtesy of
Not Derby Pie
, a great food blog. The recipe is easy to make and full of flavor. I kicked it up a notch and added seeded cucumbers for a crunchy touch. The tahini, sesame and soy sauce are a great combo!
Note: don't let the word "MIRIN" or "NIGELLA SEEDS" in the recipe throw you off. You can use good soy sauce in place of Mirin and fennel seeds in place of Nigella.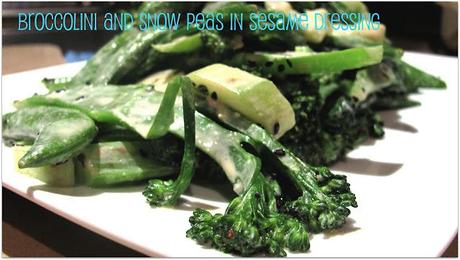 This is a tasty side dish or as a salad. It's delicious the day after as well. HH has a whole new level of appreciation for mini veggies. Judging by his love of this dish, I'd say anyone who discriminates against vegetables will enjoy this and want more of the sauce.  Here is the full recipe. 
Broccolini and Snow Peas with Sesame Sauce
Adapted from Plenty
Serves 4
So: Ottolenghi calls for broccolini, snow peas, and green beans. The beans at my market looked wimpy, so I skipped them. But I see no reason to stop the adapting there: if you can't find broccolini or snow peas, feel free to swap in broccoli, or even cauliflower, cut into florets. You're going for a bit more than 6 cups of vegetables total. Blanching time will vary depending on the size of your florets, but it should hover around 2 minutes, maybe a bit less. When the vegetables are bright green and cooked but still firm, pull the broccoli or cauliflower out of the water and set aside. Proceed as instructed below.
For the sauce:
4 tablespoons tahini
2 1/2 tablespoons water
1 small garlic clove, crushed
1 teaspoon tamari or other soy sauce
1/2 tablespoon honey
1 teaspoon cider vinegar
1 1/2 tablespoons mirin (if you don't have mirin, up the honey to 1 tablespoon and up water to 3 tablespoons)
1/2 tablespoon peanut oil
pinch of salt
3/4 lb. (3 1/2 cups) broccolini
3 cups snow peas
2 teaspoons sesame oil
1/3 cup cilantro leaves
3 tablespoons toasted sesame seeds
1 teaspoon nigella seeds
First, make the sauce: Whisk together all ingredients in a medium bowl. The sauce should be thick but pourable; if sauce is too thick, add water by the teaspoon to thin it out.
Next, blanch the vegetables: Set a large pot of lightly salted water over high heat and bring to a boil. Trim leaves and ends off broccolini. When water is boiling, add broccolini, cover completely with water, and blanch it until tender but still firm, a scant 2 minutes. Use a slotted spoon to remove broccolini into a large, shallow bowl or platter. Next, blanch the snow peas. Mine took just about 1 minutes until they were bright green and still firm, so watch them carefully. Blanch until firm, then transfer to the bowl with the broccolini.
Assemble the dish: Toss broccolini and snow peas together, or scatter onto a serving platter. Drizzle the dressing over the vegetables with a light hand; I find that using a fork or very small spoon gives me the control I want. Next, drizzle the sesame oil over the vegetables. Top with cilantro leaves, sesame seeds, and nigella seeds. Serve at room temperature.
Enjoy!