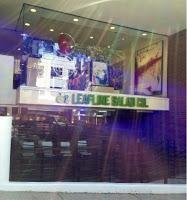 Eat. Drink. Be Earthly. 
That is the premise behind Leafline Salad Co., a new restaurant at the top of Greenwich Avenue. 
Founder Robert Kessner found himself struggling with food sensitivities, "which severely limited his diet. After a period of consistently having to hunt down food that he could actually eat, Robert finally realized that he had a new best friend in salad...Robert's new found appreciation for salad, paired with his dream to someday open his own restaurant, resulted in what seemed to be the perfect harmony."  As a vegan working in Greenwich, I have personally found it to be pretty terrific!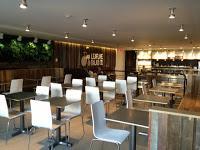 Robert's goal was to create an inviting, down to earth environment in conjunction with unique, tasty, healthy and varied options, for sandwiches, wraps, salads and snacks. He has met that goal with a large selection of homemade dressings (like forbidden sesame,) juices and ingredients.  There are 4 lettuces from which to choose as your salad base (kale, romaine, spinach and mesclun,) to which you can add "basic veggies" (like carrots, tomato, black beans, scallion, cilantro) and "premium" ones like avocado, hearts of palm and edamame.  You can also select from fruits. nuts, grains and seeds along with non-vegan options for those who might be interested.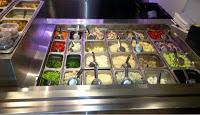 "We look out for others and take care of the planet.  We try hard to reduce our environmental footprint while at the same time create a natural, earthy, and inviting environment for you."  Bowls and napkins are made from recycled products and all utensils are recycled and compostable.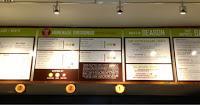 "We built with an environmental conscience.  Our walls and banquettes are covered in beautiful reclaimed barn wood and repurposed weathered steel.  Why use something new when you can reuse something that not only looks and feels special, but spares the environment at the same time?  Did we mention that we also have plants growing off of our walls?  That's right, we built in a fourteen foot long hydroponic living wall that sustains itself by recirculating water and nutrients through the wall."  

If all of this isn't enough, a portion of the profits go to Steve's Camp at Horizon Farms which teaches underprivileged kids from an urban environment about healthy eating and sustainable living.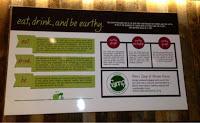 Steve's Camp at Horizon Farms brings underprivileged kids out of the city and into a natural environment to teach them about healthy eating and sustainable living. 


Yes - I think I'll be seeing you in Connecticut!