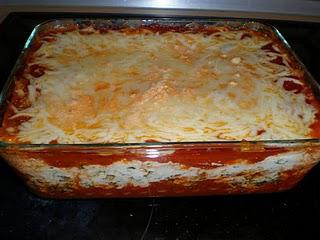 I am constantly looking for quick, easy, and good vegetarian recipes.  I got this recipe from Campbell's Kitchen.  Assembling this lasagna is quick and easy.  The original recipe uses regular lasagna noodles, I use whole wheat.  When cooking whole wheat pasta or noodles, you may want to add a few more minutes to the cooking time.  I did not precook the whole wheat lasagna noodles and they turned out great.  Here is the easy spinach lasagna recipe with my changes.
Spinach Lasagna
Ingredients: 1 container (15 ounces) ricotta cheese 1 package (10 ounces) frozen chopped spinach, thawed and well drained8 ounces shredded mozzarella cheese (about 2 cups)1 jar (24 ounces) Prego® Fresh Mushroom Italian Sauce 6 uncooked whole wheat lasagna noodles 1/4 cup water 
Directions: 
1) Stir the ricotta cheese, spinach and 1 cup mozzarella cheese in a medium bowl.
2) Spread 1 cup sauce in a 2-quart shallow baking dish. 
3) Top with 3 lasagna noodles and half the spinach mixture. 
4) Repeat the layers. 
5) Top with the remaining sauce. 
6) Slowly pour water around the inside edges of the baking dish. Cover with foil.
7) Bake at 400°F. for 40-50 minutes (50 minutes if using whole wheat noodles). 
8) Uncover the dish. Sprinkle with the remaining mozzarella cheese. 
9) Bake for 10 minutes or until it's hot and bubbling. 
10) Let stand for 10 minutes.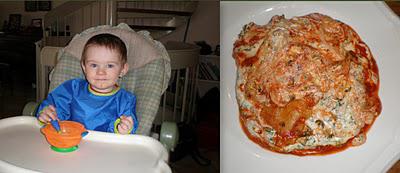 Toddler Approved!