I hope most of you are busy with last minute preparations for Diwali :). I prepared this kalakand yesterday using Nestle's easy recipe and could  wait not till I shared you with all.Kalakand is a very famous north Indian milk sweet.Traditionally it is prepared by boiling milk for a very long time in low flame stirring continuously.I have tasted this traditional kalakand many times and it is simply heaven on Earth.But after preparing lots of munchies and shopping for Diwali,strring the milk continously for long time is the last thing on Earth I wanted to do,so I settled for the second best,easy kalakand using condensed milk.Trust me even though it cannot be claimed as a traditional recipe it is no less in taste,but the lovely color is the missing element :). I adapted  Nestle's recipe with some changes,decreasing the quantity.I added a crunchy topping of caramalizd almonds and pistachios which took the sweet to a whole new level.Do not forget to dry roast the nuts very well,the smoky taste is just wonderful.Please and try n let me know :)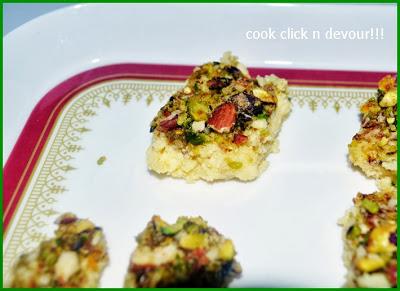 Easy kalakand with condensed milk recipe
Star ingredient:Paneer and sweetened condensed milk
Time:30 minutes
Yield:15 small pieces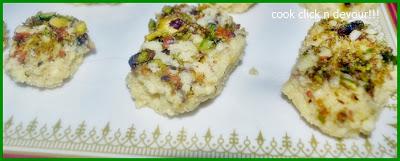 Ingredients:
200 grams paneer
150 ml sweetened condensed milk(I used Nestle)
2 tablespoons kesar badam mix(home made or store bought)
1/2 cup pre boiled milk
2 teaspoons sugar
A fistful of pistachios and whole almonds.
Method:
1.First lets prepare caramelized nuts.Heat a kadai and dry roast the nuts till a nice aroma comes out.Take care not to burn them.Now keep the flame in low and add the sugar,keep stirring till the sugar starts to melt (Do not let the sugar melt completely,that will turn the nuts soggy).Remove from flame and crush well using mortar and pestle.Keep aside
2.Take the paneer and crumble it well.Do not mash or blend just crumble well.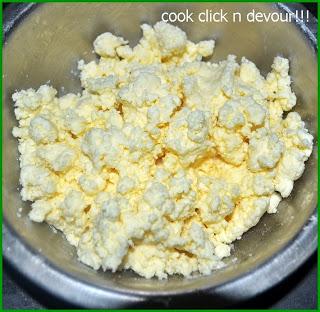 3.Take milk,condensed milk,crumbled paneer,kesar badam mix in a non stick pan and mix well.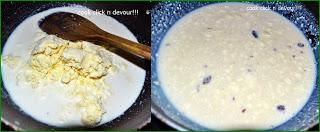 4.Heat the pan in low flame a and start stirring.Stir till the mixtiure thickens and leaves the wall of the kadai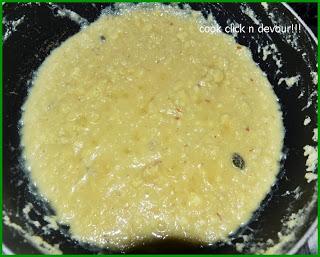 5.Pour the mixture in a greased tin and level using the back of a spatula.Top with caramalized nuts and spread evenly.


6.Allow to set,cool till room temperature and cut into squares.Keep refrigerated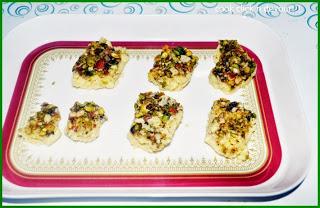 Notes:
1.You can use home made or store bought paneer
2.The grainy texture is very important for kalakand,just crumble the paneer so not mash
3.I used milk as I did not have milk powder as mentioned in recipe
4.You can use any flavoring of your choice instead of kesar-bada.
Check here for kesar-almond mix