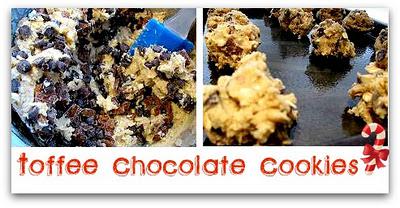 Who can resist fresh out of the oven chocolate chip cookies? Not even Santa. Today, I'm excited to share my final "easy, breezy, holiday baking" recipe. Toffee Chocolate Chip Oatmeal Cookies. The recipe calls for chocolate covered toffee candy... such as Skor or Heath (I've never heard of Heath but Skor worked perfectly) and that's what makes it slightly edgy. While the calorie count is something you shouldn't pay attention to, the addition of oatmeal in the least makes it a bit healthier than regular chocolate chip cookies. I guess you could argue, the addition of chocolate bars offsets that gain. Well, all I can say is, when the cookies came out of the oven, I could hear an echo or maybe it was a chant in the kitchen..... "MILK... MILK.... MILK......" So I had to do it. A glass of milk + one piping hot cookie = unimaginable amount of bliss. Wow. That Santa sure knows what he's talking about. 
This was hungry husband's favorite recipe by far. Granted, he has managed to eat his way through the roasted coconut cookies and the sugar cookies that I also made. But this one topped the list. I think Chocolate Chip cookies appeal to the little kid in us. They're comforting, familiar and they never lets us down. Neither does this version. The toffee adds a caramely richness without being too overwhelming or sweet. The oats add a hardier texture. All around, delicious!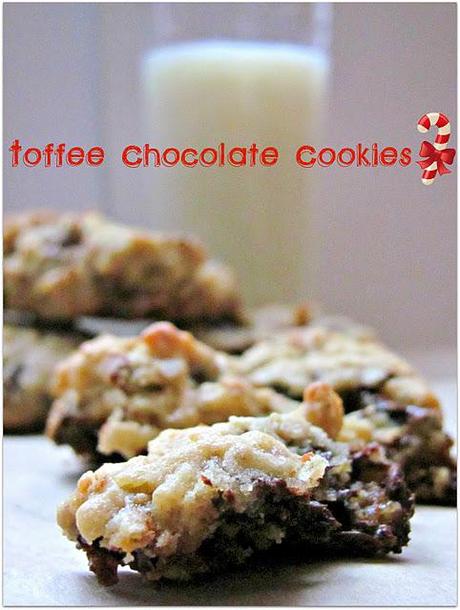 Don't you agree? It took me a few takes to get the picture right but I'm quite proud of it.  I hope it makes you want to rush home, bake and reward yourself with a sweet treat and a tall glass. And here is what my sugar cookies looked like. I think just about anyone can make this. It's not my favorite. I find them boring especially when there are better alternatives. However, they are FUN FUN FUN to decorate.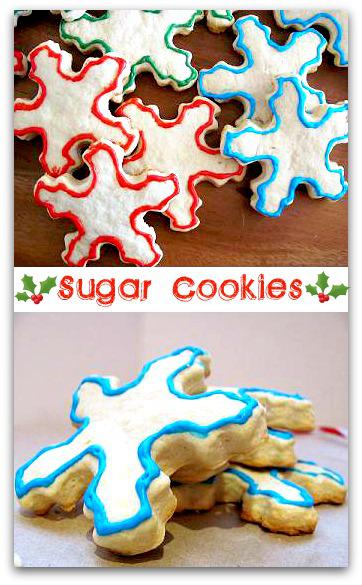 Enjoy!F2