Peanuts! Get your peanuts here. When I hear the word peanut, I automatically think
baseball
. I love baseball. In fact, for a brief period in my life, I was absolutely obsessed with the game, Roberto Alomar, and The Toronto Blue Jays. I listened to the Fan 1430 (now Fan 590) every morning. I knew about RBI's, SB's and WHIPS. I kept a score card/log of Alomar, Olerud, and Carter, to name a few. Going to baseball games was a treat. Of course, The Blue Jays were winning the world series back then. Years later, while on a business trip in Chicago, I went to a day-time, sold-out, shoulder to shoulder Chicago White Sox game. That was an amazing experience. Americans give baseball the respect it deserves. Hot dogs. Roasted peanuts. Echoes of crazy fans chanting. Paraphernalia. Very memorable. So, when I found a recipe for peanut brittle, it almost automatically made me think of that day in the windy city and the sweet, salty, crunchy peanuts! This recipe is (as always) very easy and super delicious.
Microwave Peanut Brittle
I made a batch and it literally flew off the "shelves" when my family dropped by. One bite, two bites, three bites ... .GONE! You don't have to dirty too many dishes and you don't need multiple ingredients. You don't even need to use your stove. Trust me, this recipe will not disappoint. You'll be singing, "Take me out to the ball game... Take me out with the crowd..." It'll be a HIT...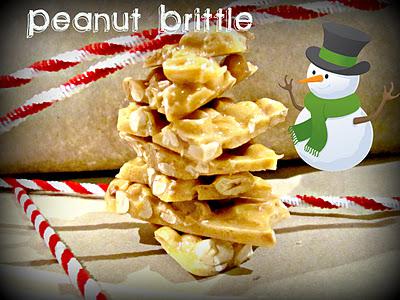 Makes 24 pieces
| 
Hands-On Time: 10m 
| 
Total Time: 45m
Ingredients
nonstick cooking spray

1 cup 

sugar

1/2 cup 

light corn syrup

3/4 teaspoon 

kosher salt

2 cups 

roasted salted peanuts

1 tablespoon 

unsalted butter, cut into pieces

1 teaspoon 

pure vanilla extract

3/4 teaspoon 

baking soda
Directions
Spray a large rimmed baking sheet with cooking spray, line with a piece of parchment paper, and spray the paper. Spray a metal spatula as well.
In a large microwave-safe bowl, stir together the sugar, corn syrup, and salt until smooth. Microwave the sugar mixture on high until it is bubbling, 2 to 4 minutes. Mix in the peanuts and butter and microwave on high until the mixture has thickened and is a pale golden color, 3 to 5 minutes more.
Remove the peanut mixture from the microwave and stir in the vanilla and baking soda. (Be careful, as the mixture will bubble up.) Immediately pour the mixture into the prepared pan, spreading it with the prepared spatula. Let stand until hardened, 20 to 30 minutes. Lift the brittle off the parchment and break into 2-inch pieces.
Storage suggestion: Keep the peanut brittle at room temperature, between sheets of wax paper in an airtight container, for up to 5 days.
I hope this recipe reminds you of baseball and warm, sunny days during the cool, chilly holiday season. 
Enjoy!
F2