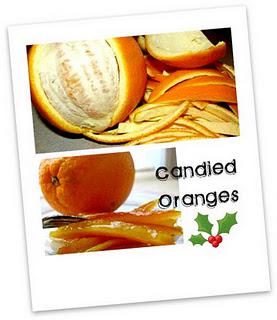 Baking is one of the best holiday traditions. Whether it is families or friends coming together to whip, whisk or wish for good results, by the end of it you're left with plates of delicious, oooey, gooey goodies. For me, the added bonus (aside from eating) is the great hostess gifts baked goods make. This year, when I embarked on my annual baking-bonanza, it was with a focus on identifying a few recipes that would make great hostess gifts as well as yummy treats. I have a few recipes to share with you this week so check back everyday. 
When it comes to baking, I've always had mixed feelings because of my innate need to experiment/take recipes in a different direction. Baking is an exact science so it never allowed me to give things my own spin. But, this year, I decided to stick to recipes and be as meticulous as humanly possible.

Goal: Make

brag worthy

goodies.

 
Recipe #1: Martha Stewart approved - home-made candied citrus peels recipe. Buddha-like patience? No problem. 
This is a really really easy recipe. Basically, you peel the fruits, cut into long strips and boil three times in cold water. Then add 4 cups of sugar and 4 cups of water and let it simmer for approx an hour - or until the sugar gets to a golden color and the peels look translucent. This is where you require patience. Let it cool down (I left it overnight). Remove the peels from the sugar, pat down with paper towels (yes, you'll have sugar all the way from your fingers to your elbows. It happens). Then roll in more sugar and let the strips dry for minimum of 30 minutes. Voila. I used oranges but as the recipe indicates, you can try lemons or grapefruit. Although Martha Stewart makes no mention of it, DON'T throw out the sugary-orangy liquid left behind. You can thicken it with gelatin, add oranges and make jam or thicken with cornstarch and make a custard. It is not to be wasted. Imagine packing a plate full of orange, lemon and grapefruit strips. What a nice gift that would make.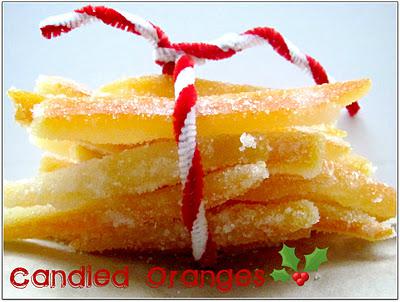 Enjoy!
F2