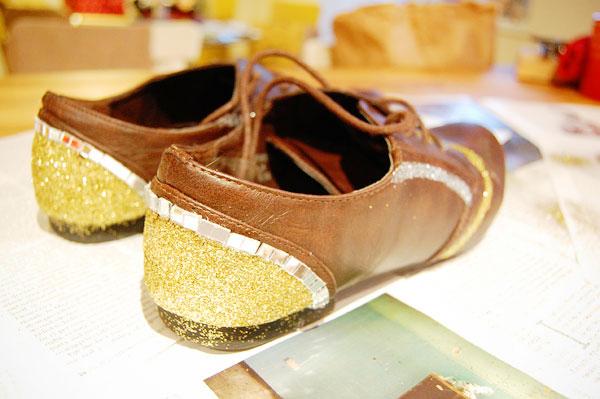 'Tis the season to be jolly. The presents are wrapped and sitting pretty under the tree. The mulled wine is simmering on the stove. To put those last spare hours to good use, we've got a DIY for you that's both festive and fashion-conscious – it's the perfect way to add that extra bit of spangle to your Christmas! Here's how to give an old pair of shoes a new lease of life just in time for the big day: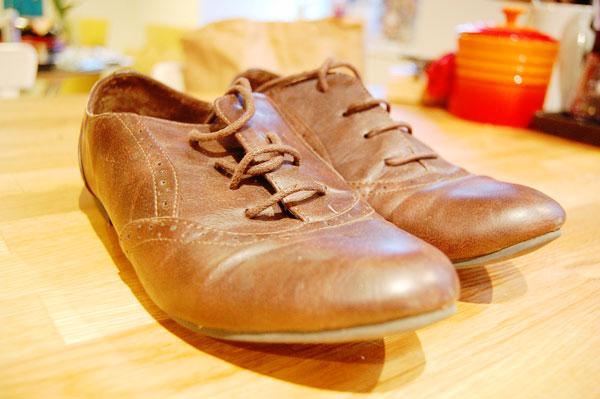 Step 1
Find yourself some old shoes. That should be easy, right? We used a pair of brogues we found at the bottom of our wardrobe but anything from simple slip-ons to Converse will work. You'll need to gather your supplies. Grab some glitter in whatever color tickles your fancy (we went for gold and silver) and plenty of fabric glue. Sponge brushes, cotton buds and newspaper are a must and will keep the mess to a minimum!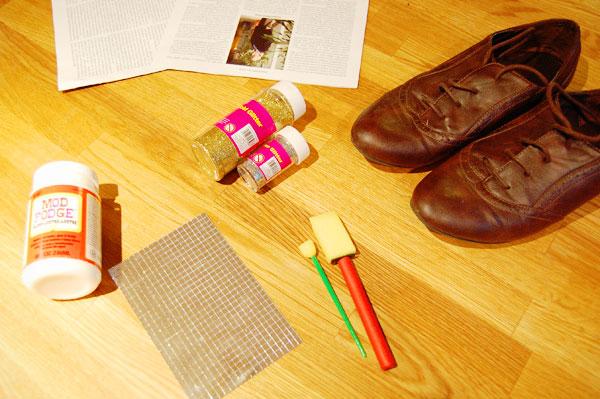 Step 2
Cover your surface with newspaper and pour your glitter into bowls. Take a good look at your shoes – are you going all out? If so, take the laces out and keep them safe. Use a sponge brush to smooth fabric glue onto the areas of the shoe you want your glitter to be. No worries if you go wrong, just wet a cotton bud and wipe off the excess, no one will ever know!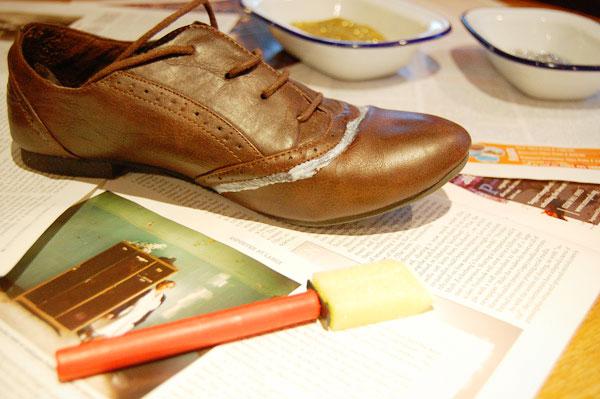 Step 3
Holding your shoe over the bowl, sprinkle glitter by the handful over the glued area. Shake off any extra and don't worry if it looks messy, you'll be going back to tidy up later. Apply glue to the next part you want to glitter up and sprinkle the glitter on. Repeat this until you're all done. Be careful not to glue too big a surface at once because the glue will dry after about 2 minutes. It's easier to tackle smaller areas step by step.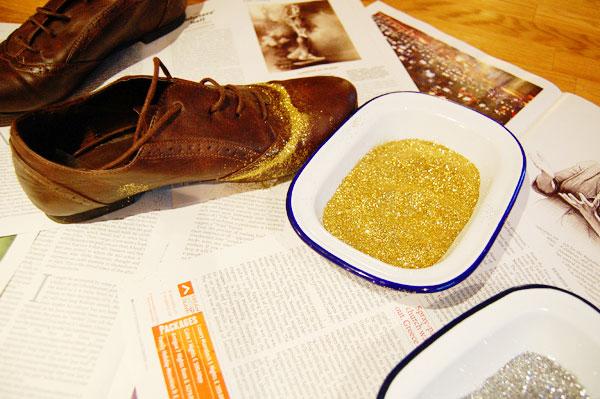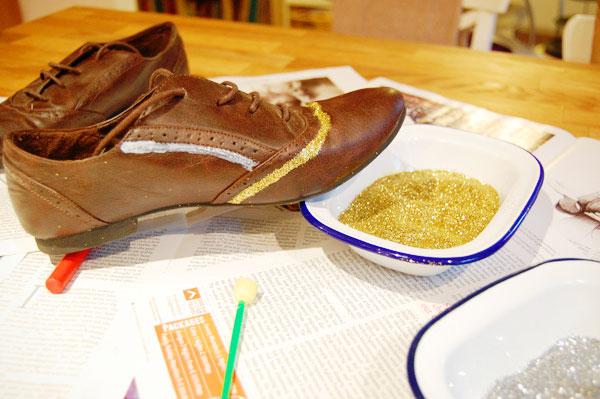 Step 4
When all your glitter is applied, sit back and have a cuppa. After 5 minutes or so, take a cotton bud and tidy up the edges of your glitter by wiping away any stray flecks outside the glued area. You may need to go back and top up any areas you missed. The bits around the sole can be tricky!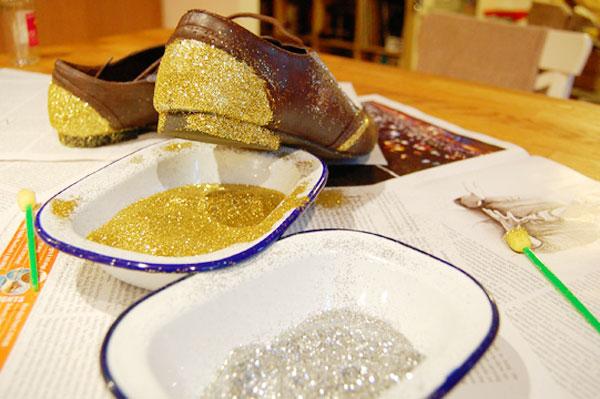 Step 5
If you're feeling flash, add a little detailing for a more polished look. We used mirror mosaic tiles to add a border to the heel area of the brogues. Sequins, lace or braiding also make great trims so don't be afraid to experiment! Attach your trim with more fabric glue and don't worry, it'll dry clear and shiny.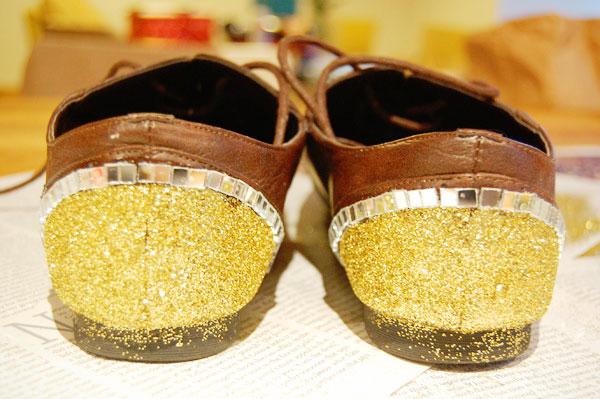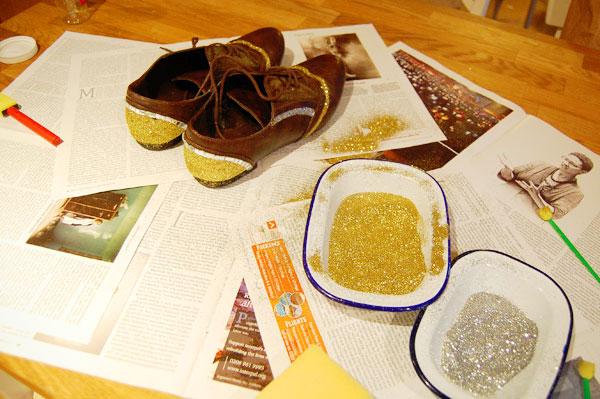 Step 6
Once your detailing is done, put your new shoes to one side to dry for about an hour. When they're ready the glitter patches should be dry and hard to the touch. The only thing left to do is slip 'em on and show 'em a good time!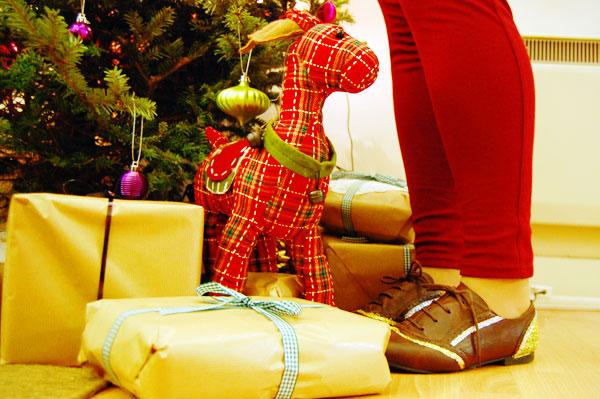 So there you have it. A quick bit of bespoke action will bring any pair of tired shoes out of retirement and back onto center stage. We'll be wearing ours on Christmas Day. They go perfectly with this year's Christmas jumper! For extra festive cheer why not get your red and green glitter out? Plus, with everyone from Jimmy Choo to Kate Spade rockin' the sparkles on their footwear, once you've polished off the turkey you'll be ready for the catwalk, or erm… the sofa, whatever you fancy really, no judgment here!