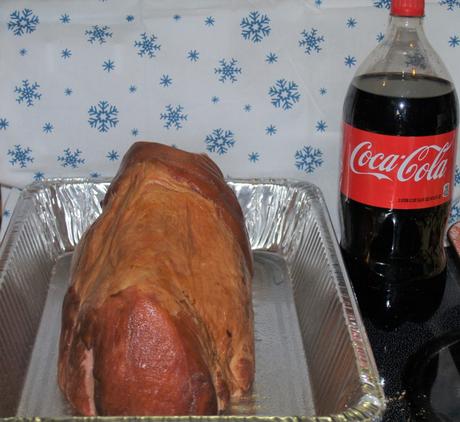 Hi Everyone! Top Girl, here, with a super simple way to prepare your ham for the holidays. Ham is my favorite meat for pretty much any holiday. Thanksgiving, Christmas, Easter…I would always pick ham.  Oh, and this is my first official post as part of Kelli's Kitchen.
I picked up an Appleton Farms Smoked Shank Portion Ham (at Aldi) for $0.99 lb in October and stuck it in the freezer to await our Thanksgiving feast. I thawed it out in the fridge 2 days before Thanksgiving.
There are lots of ways to prepare a ham like this. Some folks like a thick sweet glaze and some folks (like me) like something a little more simple. Coke with ham is a traditional way to cook a ham in my family. It's simple and adds just a touch of sweetness, leaving the full flavor of the ham to come through.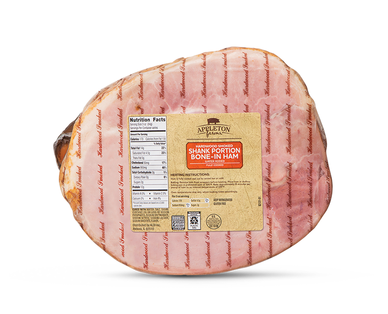 Easy Coke Ham
Directions
Place the un-packaged ham, face down in a pan big enough to hold it.
Pour Coke (or some type of cola) over the ham, enough to cover the bottom of the pan. For this, I used about 2 cups…or so.
Cover pan tightly with foil.
Bake in the over at the temperature setting for the time indicated of the package of ham.
We always use a digital thermometer to check the temperature, making sure it reaches a temperature of at least 140F.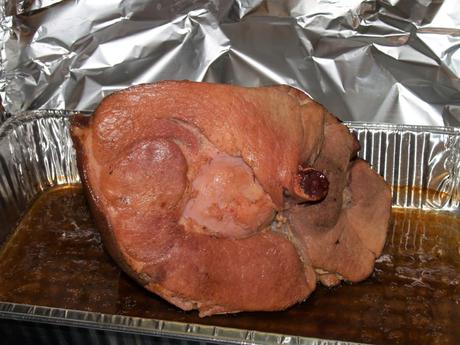 This ham comes out beautiful and slices up nicely.
*Tip: After you cut most of the meat off of the bone, wrap up the bone in foil and freeze it. It's be perfect ingredient for a big pot of beans or black eyed peas for New Years!
This is not a sponsored post. Neither Aldi nor Coke paid for any part of this post.
Check out or other Easter, Christmas and Thanksgiving recipes to dress up your Holiday Table!