I told you all last week that I'd post a great Pumpkin French Toast recipe, sorry I couldn't do it. Soooo instead of just one, I have 3 recipes for you!!! I love y'all.
First up: Pumpkin French Toast. I found a pin on the ever so great Pinterest for Pumpkin French toast. How easy is that? Made some for my son's breakfast and he DEVOURED it!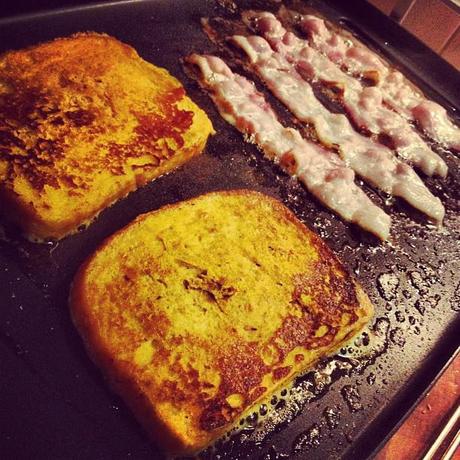 Ingredients
About 4-6 slices if bread- your preference-whole-wheat or white
1/2 cup milk (almond, dairy, soy- i used vanilla soy milk)
1/3 cup pumpkin puree
1 egg
3 tablespoon of sweetener of choice- (I used maple syrup)
1/2 teaspoon of pumpkin pie spices (or a 1/2 tsp worth of nutmeg, cinnamon, cloves)
a pat of butter or coconut oil (for that brown flavorful crust!)
A pinch of salt
Directions:
Allow bread to dry out on a plate overnight.
The next morning, or whenever you make this, mix all ingredients except for the butter/coconut oil and the bread. Pre-heat skillet or griddle to medium heat. One piece of bread at a time, soak the bread in the pumpkin mixture per side until the bread feels slightly spongy. Cook in skillet for about 3 minutes per side. If you're making a lot, preheat oven to about 100C-200F and add the  cooked french toast to a sheet pan or any oven-proof dish. Repeat until you're done! Top with whatever you please! We topped with maple syrup. I also love fruits, or confectioner's sugar!
Next, these are pumpkin pancakes I made using annie eats recipe. I added pecans, and just used 3/4 cup of whole wheat white flour from King Arthur's Flour. HEAVENLY and it freezes quite well!!!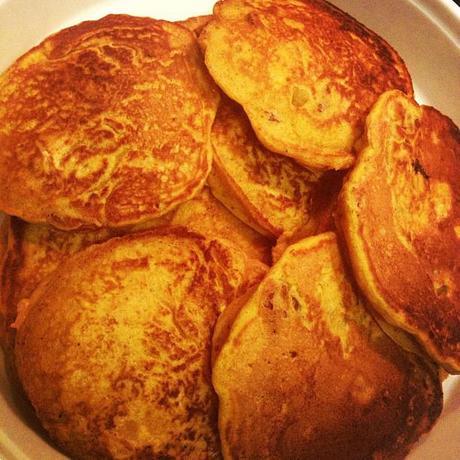 Last but not least, my favorite recipe from this weekend- Sweet Potato Waffles with Homemade Blueberry Glaze!!! YUMMM! Found this recipe from the Mayo Clinic. I Made a few changes to my taste. Enjoyed by all!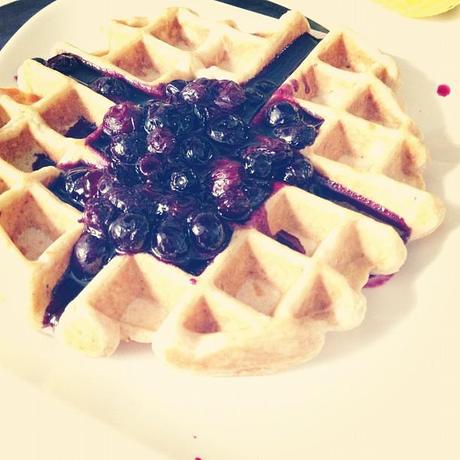 Ingredients
For the syrup
1 1/2 cups fresh or frozen blueberries
1 tablespoon fresh lemon juice
1 teaspoon grated lemon zest
6 tablespoon honey
Pinch of ground cinnamon
1/3 cup peeled and diced sweet potato, or 1/4 cup canned pumpkin puree
3/4 cup all-purpose flour
1/2 cup whole-wheat flour
1 tablespoon baking powder
1/2 teaspoon salt
1/8 teaspoon ground cinnamon
1/8 teaspoon ground ginger
1 cup 1% milk (or any milk of you choice)
2 tablespoons coconut oil2 tablespoons brown sugar
1 egg
Directions
To make the syrup, in a saucepan, combine the blueberries, lemon juice and zest, honey, , and cloves. Bring to a boil over medium-high heat, then reduce the heat to low, cover and simmer until the berries burst and the juices are slightly thickened, about 5 minutes. Frozen berries may take slightly longer to thicken. Set aside and keep warm.
If using sweet potato, bring a small saucepan half full of water to a boil. Add the sweet potato, return to a boil, then reduce the heat to medium-low and simmer until very tender, about 10 minutes.  (I roasted a large sweet potato for 45 minutes)  Drain and puree in a food processor or mash with a potato masher until smooth. Set aside. If using pumpkin puree, reserve.
In a small bowl, sift together the flours, baking powder, salt, cinnamon and ginger. In a large bowl, whisk together the milk, sweet potato puree, coconut oil, egg brown sugar. Add the flour mixture and stir just until combined.
Place a baking sheet in the oven and preheat to 225 F. Preheat a waffle iron. Spoon or ladle about 1/2 cup batter into the waffle iron, depending on the size of the iron. Spread evenly and cook according to the manufacturer's instructions. If the batter thickens, thin with a little soy milk. Transfer the waffle to the baking sheet in the oven to keep warm. Repeat with the remaining batter to make 6 waffles. Serve topped with the syrup.


ENJOY!!!!!