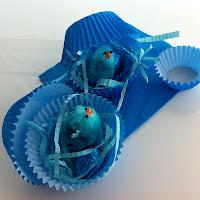 It's no secret that chickens hatch out of eggs, and that their mothers lay them, and that everyone ponders the which came first... so why not be a little quirky and place an egg inside a nest inside an egg.
Here's what you'll need - experiment with all the same colour, or complimentary shades;
Paper cupcake liners in two sizes, 
Craft chickens,
Chocolate eggs, &
Shredded paper. 
To make the craft ensemble;
place a small cupcake liner inside a large one.
Inside the large liner, (and around the smaller one), place some shredded paper.
Inside the small cupcake liner place a chicken and a chocolate egg.
Resting over the top of the whole arrangement place another large cupcake liner so that the 'nest-egg' is closed.
When visitors arrive at their table setting, or children arrive looking for sweet treats, they can lift the lid, (or hatch the egg), and there inside will be a nest bearing gifts!
This is a quick and easy craft which toddlers and preschoolers will enjoy making as much as eating... so go on... make an edible nest egg with your own cheeky chicks!