My household like so many, generally serves a ham during any holiday. I am not a big fan of cloves so I like to braise my ham in wine and aromatics. It keeps it moist and delicious!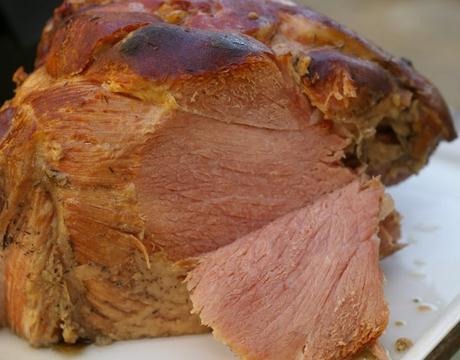 The main dish is a Easter Ham in honor of Julia Child. She has always been an inspiration to me. My family loves this recipe. I live about 45 minutes from Smithfield Virginia. So, I chose to use a Smithfield ham for this recipe. You  can use any ham you like. I hope you enjoy it as much as my family does.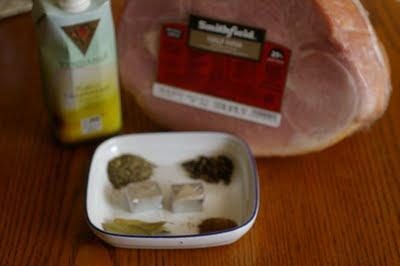 Print Recipe
Braised Ham
Ingredients:
14 pound bone-in fully cooked ham 
1 cup sliced carrots 
1 cup sliced onions 
1 cup sliced celery 
1 teaspoon peppercorns 
1 teaspoon allspice 
2 teaspoons thyme 
3 bay leaves 
2 cups of dry white wine
 (I used Chardonnay) 
2 cups chicken broth
Directions:
Preheat the oven to 325 degrees.
Unwrap the ham and remove any strings or other extraneous matter. Rinse the ham under running water. Place the ham in a dutch oven, strew the vegetable around it. sprinkle the seasoning over it, pour the wine over top and add the chicken broth.
 
Set the dutch oven in the lower third level of the oven and braise for 2 1/2 to 3 hours. Baste occasionally with the juices from the pan. It is done when an internal temperature is at 130 degrees. Strain the braising liquid from he pan, pressing juices out of the vegetable with the back of a spoon. Degrease the liquid and taste. If it is to salty, dilute with strong plain chicken stock.
Serve the ham juices as they are or make a gravy by combining 1/3 cup of flour to 1/3 cup butter or peanut oil. Make a loose paste. Stir over moderate low heat with a wooden spoon for 6-10 minutes until medium brown. Remove from heat and add the ham stock. Whisk until smooth and thick. What other side dishes do you think I should serve with this delicious ham? Here is my favorites.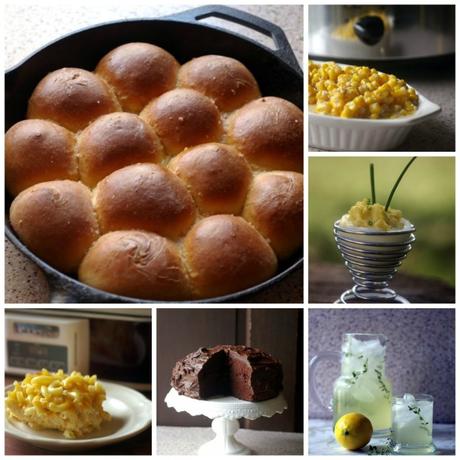 So to go with that Julia Child ham I have a few sides I would love to suggest.
Deviled Eggs
is a big favorite! For more sides I would love to include my slow cooker Mac and Cheese. Everyone loves my easy
Slow Cooker Creamed Corn
. No meal would be complete with my Cast Iron Parker Rolls.  I have to wash it down some Watermelon Lemonade Who wouldn't forget dessert? One of my big views from bloggers is my Chocolate Cake. It is so luscious, moist and out of this world good! I hope you enjoy this holiday recipe as much as I enjoyed bringing it to you. Peace be with you, Veronica