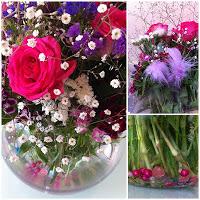 It's no secret that flowers look fabulous on any table.  They are the perfect centerpiece just as they are.  I love a good clean bowl that doesn't draw attention away from the beauty of the flowers... but as always... I luuurve to 'tweak'!
Here's two really fast ways that you can make a gorgeous flower arrangement you-nique:
Feathers - most local craft or discount-dollar stores sell coloured feathers, so pick out a selection that match your flowers and pop a few in amongst the flowers for a surprise for your guests.
Beads - select an assortment of beads in different shapes and colours (again try to match the flowers) and slip them into the vase.  Some will float like bubbles and others will fall down like pebbles; all of them will glitter and shimmer for a wonderful effect.
Chances are if you're crafty you have both feathers AND beads lying about in your stash... you may also find some butterflies, plastic Easter eggs , or other items you can place in or around the flowers, or into the water below... there's no rules; just have fun!
So if you're hosting an Easter party, or just lucky enough to get a great big bunch of floral wonders, go the extra step and put a little crafty magic into the mix!
Go on... give your flowers some power!
Linda.