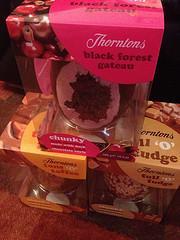 Classic Desert Range by Thorntons
A little while ago we were asked if we would like to try a new range of Easter Eggs by Thorntons.  We have been asked before to try products and to be honest we don't often agree to it - but this was a little harder to refuse!
We decided that given the nature of the range that they would be best tried as a desert.  So we waited for a rare Saturday night when I wasn't working and we could have tea together.  We tried a new recipe for our main meal too but that turned out a disaster and tasted like someone dropped a beer in some tomato soup and threw it over my sandwich!! (maybe a blog-post for the future) so we needed cheering up.  And this little project certainly cheered us up.
Now when you go looking in supermarkets for Easter Eggs for the family you might be swayed by the 3 for £5 offers or something similar.  Now that is fine for little people but if you want to make someone feel really special then you can't go far wrong with one of the choices above.  These eggs are seriously indulgent - maybe not for the faint-hearted - and probably best not eaten in one sitting.
The first thing I noticed when getting these eggs out of the packaging was the weight.  They really were chunky and I'll admit that we had to get a rolling pin to them.  Not because the chocolate has hard as such - but it was so thick.  All good signs as far as I am concerned.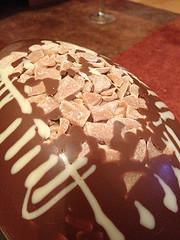 Full 'O' Fudge
The Full 'O' Fudge Egg was great.  It was really well presented with fudge seemingly bursting out of the egg itself.  The fudge was sweet and crumbly as fudge should be and even ran throughout the chocolate egg itself which was a feature of all the eggs we found.  They weren't just eggs with decoration - each one is individually created with the theme running right through it.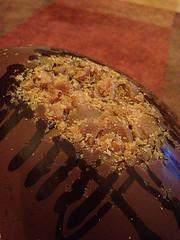 Tons 'O' Toffee
The Tons 'O' Toffee was perhaps Fran's favorite.  Again, the toffee pieces ran throughout the silky milk chocolate egg and we found there was soft and hard pieces too which added a nice contrast in texture.  The toffee was delicious and there was no scrimping on quantity either.  Fran seems to think that the toffee used in this one is Thornton's Special Toffee - this isn't confirmed but it certainly is tasty enough for that to be the case.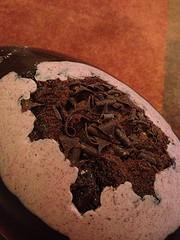 Black Forest Gateau
Now as I am writing this blog-post I have taken the liberty of saving what I thought to be the best - for last.  The Black Forest Gateau Egg was amazing.  It was perhaps the closest thing to an actual desert in my opinion.  It was made with a lovely rich dark chocolate and deep, proper fruity, dark cherries not only bursting out of the front of the egg but again running through the chocolate.  After breaking up the egg if you saw a thicker piece you knew it would be crammed full of cherries.  I think the creamy effect on the front of the egg was made with white chocolate but it was lovely and creamy and the swirls of chocolate really finished it off making you feel like you have actually had a Black Forest Gateau!
We were very grateful for being given the opportunity to try these eggs and would definitely recommend them as the title suggests - for grown-ups.  Chocolate this good would be wasted on children!  There is another egg in the range called Tempting Trifle which we haven't tried - but imagine it to be fantastic too.  If you can think of 3 people you like enough to give these to then there is an offer on the
website
 at the moment offering 3 for £20 which considering the quality we think is great value.