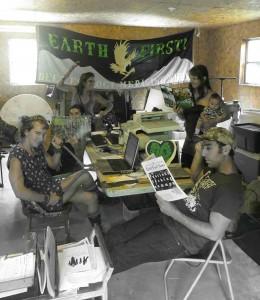 from Earth First! Newswire
Big changes are coming our way! At this year's Round River Rendezvous, the Earth First! Journal Collective brought a challenging proposal to halt the printing presses for the remainder of the year and focus our energy on fundraising.
We need to raise $30,000 by the end of 2013 to continue our critical media work for the movement—in particular, getting back on schedule with printing our magazine in 2014. (Current subscribers will get extended subscriptions to accommodate this change.)
Printing and shipping create our most significant expenses. by entering the new year with the funds we need on hand, we will be able to re-focus and accomplish our top priority—producing quarterly issues of the Earth First! Journal. It is important to us that we are able to keep printing radical environmental news and analysis, especially for people without internet access. The Earth First! Journal is circulated to hundreds of prisoners, and one of the key elements keeping imprisoned activists connected to radical movements.
With your help, 2014 will bring more magazines to your doorstep, more media projects to the world, more EF! merchandise to show your solidarity, and more in-depth coverage from the frontlines of ecological resistance.
The Earth First! Journal Collective works mostly on donations, so please consider donating or subscribing today!
As part of our Back to the Presses! fundraiser we are thrilled to announce the 1st Annual Earth First! Journal Art Auction and the 2013 Earth First! Film Fest.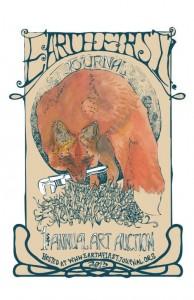 EF! J Art Auction poster, created by InKat
1st Annual Earth First! Journal Art Auction:
The Art Auction will be online at earthfirstjournal.org, launching November 18th. It will host national and international artists and will guarantee great exposure for everyone donating their work. We are interested in art that highlights ecological resistance, celebrates the earth, art made from natural materials as well as art that demonstrates environmental destruction. Art, crafts, books and other goods can all be submitted, email us at: events [at] earthfirstjournal.org for more information and to receive our registration form. You can also view the facebook page for the event here.
2013 Earth First! Journal Film Fests
Last year, the Earth First! Journal hosted its first EF! Film Fest in Lake Worth as a fund raiser. It was a great success.
This year we are also coordinating with other EF! groups around the US and abroad to set up mini-Film Fest events in their communities. If you are interested in participating, get in touch. We can help you get access to films, promotional materials and EF! merch for tabling. Email: collective [at] earthfirstjournal.org for more info.
The 2013 Earth First! Film Fest in Lake Worth will take place November 29 – December 1. We're looking forward to another opportunity to share empowering films, as well as provide a chance for people to meet, socialize, donate, network and get involved with the local Earth First! organizing happening in South Florida's Everglades bioregion. Visit the facebook page and help spread the word via social media!
We'd like to give a big thank you to everyone who has already donated and subscribed to help keep the Journal in print. We look forward to being able to provide you with a steady flow of radical magazines in 2014! For now, check out our latest issue of the Journal, Mabon 2013, available free online.